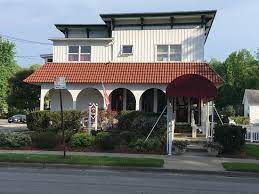 Kyora Wallace, Staff Writer |
Finding places to eat in Oneonta can be a bit of a challenge sometimes. Especially if you want to have a fancy dinner with your partner or even a black-tie birthday meal. Now, before you put on your fancy clothes to go to Applebee's again, allow me to introduce you to Bella Michael's. Bella Michael's is an Italian restaurant located on 57 River Street, and it's your next fancy dinner spot.
For starters, the ambiance of the restaurant is beautiful. It has a very homey but very elegant feel to it. It's not too fancy to where you'll feel out of place, but just fancy enough to make you feel good about yourself. All the tables are adorned with a small vase of flowers and a little tealight candle. The restaurant also includes a full bar that has more wine than the average person can name. If the weather is nice, you can even get an outside table under a tent draped with fairy lights.
Now let's get into the food. They offer a variety of hot and cold appetizers. If you're in the mood for something cold, you can never go wrong with the Shrimp Cocktail. However, I strongly recommend the Crabmeat Nachos. They fry the chips themselves so they're nice and crisp and cover them in a bed of crabmeat and Cajun cream sauce. I would eat that sauce on anything!
If you're in the mood for Pasta, you can't go wrong with Ravioli. Bella Michael's serves a Lobster Ravioli and a Cheese Ravioli. I would personally recommend the lobster ravioli with the crabmeat Cajun cream sauce if you're feeling fancy. If not, the regular cheese ravioli will do just fine.
They also have a variety of meat dishes. The star ingredients are Chicken, Veal, and Steak. Now I'm going to be honest, I haven't tried many of the veal dishes because most of them contain mushrooms (I hate mushrooms) but I've heard good things about the Veal Bella Michael. It's a Veal with mushrooms, prosciutto, and mozzarella cheese. If you're in a more traditional mood the Chicken Alfredo is also great. It's served on a bed of flavorful chicken and perfectly cooked pasta. As for the steaks, the main cuts are the New York Strip and the Filet Mignon. You can get a 12- or 14-ounce New York Strip. Or you can either a four-ounce or twin four-ounce Filet. The choice is yours.
Off to the best category, Seafood! Now, of course, they sell the classics like Salmon, Scallops, and Shrimp Scampi. However, the best seafood item on the menu has to be the Crispy Seafood Mix. The dish is a combination of fried shrimp, scallops, and calamari over a bed of pasta marinara. It's nearly impossible to mess up a dish with that many delicacies in it so you'll be in for a treat with that dish. The restaurant also offers different soups and Vegetarian dishes.
Of course, there's so much I didn't get to discuss. But the best solution for that is for you to go there yourself. With that being said, Bella Michael's is definitely a dine. Treat yourself or your friends to a nice dinner and tell them I sent you!