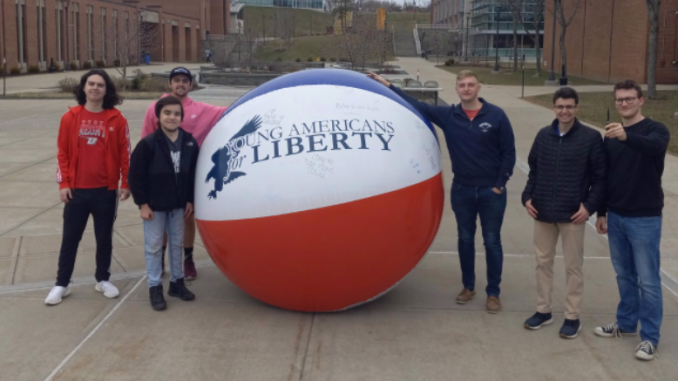 Casey Ryder, Staff Writer |
Are you someone who believes that individual liberty and freedom matter above all else? Do you believe that society works best when people are left to their own devices? If you answered yes to either of these questions, you'll be happy to know that there is a club waiting for you: the Young Americans for Liberty (YAL) club. 
The club here on campus is a chapter of the nationwide Young Americans for Liberty organization and is aimed at promoting individual liberty and giving freedom back to the students.
Club President Alec Woodruff said, "Young Americans for Liberty is a political activism club on campus. We're often branded the libertarian club although we aim to be so much more than that as we aim to give student rights back to the students and really promote the message of liberty on campus regardless of political affiliation." 
The club meets on Thursdays at 5:30 p.m. in Fitzelle Hall room 207 and when the group meets, they discuss what events are coming up, what events they will be doing, as well as current world news. Woodruff said, "The typical meeting is me going over a general agenda."
Woodruff continued, "We'll discuss what's new for that week, what events are we doing, what's coming up, and then we'll talk about current news and what's going on in the world. It's really cool that we have a very tight-knit group that always comes to meetings and always has a very friendly discussion. It's a good time."
Outside of the meetings. the group puts on events and leads several initiatives. Currently, the group is laser-focused on overturning the rule that prevents students from carrying pepper spray on campus. "Ending the ban on pepper spray is our main priority right now," Woodruff said. "We think that this is a great first step as far as giving freedom back to the students…when we first started this initiative back in February a big thing for all of us was that 'we're taking freedom back from an overstepping administration!' But as we've talked to more students, we've realized that this is much more about a student safety issue and how people need to feel safe on campus." 
Most students on campus who are not political aficionados will likely only think about politics in terms of democrats and republicans, or liberals and conservatives as those are the most mainstream ideologies in America today. As a result, a lot of people are either unaware or misunderstand what libertarianism is all about and what libertarians stand for. While it is true that libertarians lean right, libertarianism blends certain aspects of liberalism and conservatism and thus they do not truly belong in either of the two major parties.
Ultimately, libertarians just want to maximize freedom in every aspect of life. "Libertarianism is the philosophy of freedom," Woodruff said.
"We combine talking points from the liberal side and the conservative side and we make it into our own mesh. Really in any talking point you could bring up, whether that's abortion, gun rights, or any controversial topic you can name, libertarians will always be on the side of freedom and making sure that the individual has the right to live their life in the best way that they see fit," said Woodruff