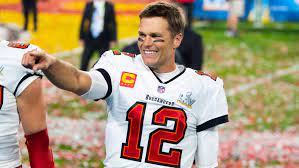 Casey Ryder, Staff Writer |
On Sunday, Mar. 13, quarterback Tom Brady announced that he will be returning for his 23rd season in the NFL and that he will do so with the Tampa Bay Buccaneers.
In a statement released on Twitter Brady said, "These past two months I've realized my place is still on the field and not in the stands. That time will come. But it's not now. I love my teammates, and I love my supportive family. They make it all possible. I'm coming back for my 23rd season in Tampa. Unfinished business LFG."
Brady's words will be music to the ears of the Tampa Bay Buccaneers and their fans. In the 2021 season, he led the NFL in yards passing (5,316), touchdowns (43), completions (485), and attempts (719).
"Tom Brady loves to play football as much as anyone I have ever been around," Buccaneers Head Coach Bruce Arians said in response to the news. "As Tom said, his place right now is on the football field. He is still playing at a championship level and was as productive as anyone in the league last season. We are ecstatic that he decided to continue playing and working toward winning another championship."
Buccaneers General Manager Jason Licht chimed in with his thoughts on the news and said, "We are thrilled that Tom has decided to come back this season. We said we would leave all options open for him should he reconsider his retirement and today's announcement is something we have been preparing for in recent days. Bruce and I have had plenty of conversations with Tom recently that led us to believe there was a realistic chance that he would want to come back. Tom is the greatest quarterback of all time who is still playing at an elite level. With this decision now made, we will continue to move forward with our offseason plans to reload this roster for another championship run."
Brady's announcement wasn't all that shocking to people in the sports world as there had been much speculation that he would change his mind.
On the same day that Brady announced his return, he posted a video on his Instagram stories of soccer star Cristiano Ronaldo asking him "You're finished right?" Brady's answer couldn't be heard, but it was clear from the look on his face that he wasn't certain about retirement.
The announcement also comes just one day after a collector paid $518,000 at an auction for a football that was used for what he believed would be Brady's last ever touchdown pass.
Brady's CV is unlike any other in NFL history: seven Super Bowl championships, five Super Bowl MVPs, and he's the NFL career leader in yards passing (84,250) and touchdowns (624). It is because of this loaded resume that he is almost universally considered to be the greatest quarterback to ever play the game.
Now, at the age of 44, he returns for his 23rd season.