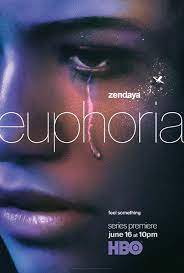 Alexa Di Palermo
Now that the second season of HBO Max's Euphoria has ended, the audience has fallen into a rut. The internet is buzzing with questions like "What happens to Fez?," "Did Cal go to jail?," "Do Cassie and Nate stay broken up?," "Where will Cassie live now?," "Will Faye help Fez again?" Not only this, but fans feel as though they will miss their Sunday nights, and no longer know what to do with themselves when the clock strikes 9:00 p.m.. But right now, all the audience can focus on is how insane that finale was!
To begin, Lexi's play was a masterpiece. Lexi's true intentions were to make everyone reflect on themselves and the things they do. Every character has their fair share of flaws and has made a million mistakes. Most characters watched calmly, and maybe even took the time to reflect upon their mistakes. But this season's least favorite character, Cassie Howard, could not take it to see herself and her (horrible) boyfriend exposed on stage to the entire school.
Cassie gets violent as everyone expected her to (she has been a tad bit crazy lately) and ends up disrupting the whole play. But this brings us to the showdown we have been waiting for between Cassie and Maddy. As anyone would be, Cassie immediately got scared and began to run away from Maddy. But our girl Maddy won this fight, as we all expected.
This shows the audience no matter what, Maddy is the one person Cassie can not compete with and cares what her reactions are. Clearly, because Maddy beat Cassie in two short seconds and Cassie saw it coming. After her beat up, it is almost as if she has a realization that she was in the wrong, and that she is stuck in a situation that has made her act out. Looking bloody and crazy, she realizes as Maddy told her, "This is just the beginning."
We obviously all expected this, and due to what Maddy said, this foreshadows a long and toxic relationship between Nate and Cassie (as expected.) We can all only hope for our old and lovable Cassie Howard back. Not only this, but the audience is all mutually rooting for Lexi Howard to get the love and attention she deserves.
There were characters that also reacted well to the play, like Rue. If Rue had been on drugs still, I'm sure she would have pulled a Cassie. But, since she was clean, this was an opportunity to reflect on herself, and give herself the moment of closure, hope, and forgiveness she needs to move on with her life.
Sadly, we must touch upon our beloved Fez and Ashtray. This storyline broke all our hearts, not only because most of the audience is in love with Angus Cloud, but because of the deepness within these characters. Fez was finally falling in love with someone who would be good for him; he was going to make a move and was stopped to watch the death of his brother. Now the audience has questions and no answers, but only hope Faye will come through yet again.
Lastly, Cal Jacobs. Not that the audience did not expect Cal to get karma for his unjust actions, but many could say they did not see it coming so soon. Many theories were that Cal would die, but not live to face his guilt in a jail cell. Good for Nate, I guess.
The second season's finale was a beautiful rollercoaster of emotions, with many touching, thrilling, and depressing moments. Though this closed many of the audiences' questions, it also opened many more up for the third season (which will hopefully come sooner than the audience expects).
If anyone were to ask me if they should even bother watching this season, I would tell them to watch it as soon as possible. This season had the audience at the edge of their seats, counting down the days until Sunday. It had us theorizing on social media, it made us talk, and it made us feel many different emotions. It was amazing!