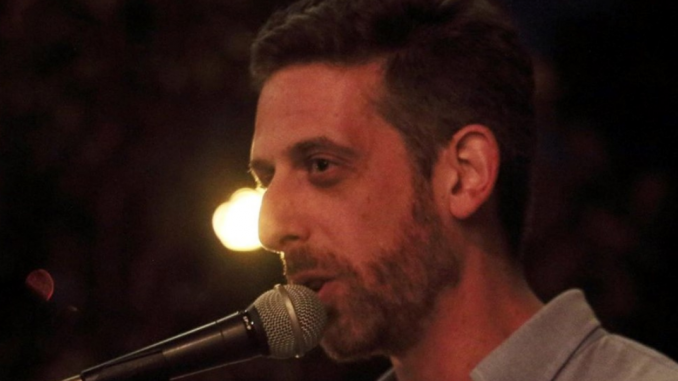 Kyora Wallace, Staff Writer |
This past Wednesday, Mar. 2, our school hosted the author, Adrian Van Young. He was a guest for the Red Dragon Reading Series and I was lucky enough to have him sit in on one of my classes.
Young is an author who was raised in New Orleans, Louisiana. He wrote the book, The Man Who Noticed Everything, which won a St. Lawrence Book Award in 2011. His other works include titles like Shadows in Summerland and Vampire Pool Party. Young has been teaching for 10 years and currently teaches an undergraduate Composition 100 class back in New Orleans. Professor Rodger Hect invited Young to his Fiction Workshop class and assigned a few of his other stories for the students to read and ask questions about.
The class read two of his short stories called Hammer and The Skin Thing. Hammer is a story that follows an ex-convict who is socially stunted and has found work as a handyman in a commune. The protagonist has an interesting relationship with his hammer as he often thinks about how easy it would be to kill people with it. Young talked a bit about his inspiration for writing the story saying, "That story began with the idea of what people are or aren't capable of under different circumstances. Living in a commune is my worst nightmare so my idea was more about his journey into that lifestyle."
After a few more questions, we transitioned to his other story, The Skin Thing. The story follows a community of farmers who were being terrorized by a monster that would also eat their onion crops. The farmers come up with a solution, whoever grows the least number of onions would get sacrificed to the monster. Young confessed, "I really love monsters." Young goes on to say, "as a kid, I really loved monster movies and I would watch the monster scenes over and over. I was thinking of a monster that looked like psychically improbable but moved in a more graceful and interesting way."
Young revealed that his main influences were macabre works of art, the supernatural, and monster movies. He talked about his love for Sci-Fi and the supernatural and how he likes to express it in his writing. He says, "I used to use people as a vehicle to get to the supernatural, now I think the supernatural and the macabre is a way to get to people."
Young also provided some meaningful writing advice to the class. He told stories about how you have to write a few failed novels and how he was afraid of what would happen if he didn't plan out every detail for his stories. He says as he got older, he learned to stop planning everything out, so it could be more of a surprise for the reader. Young also expressed that while writing you may have to ask yourself "am I presenting this information because I want to show that I know it? Or will the reader gain something from this?"
Once it came time for the Red Dragon Reading Series, Professor Daniel Payne introduced Young and encouraged people to buy his book. Young came up and read a new short story called The First Resurrection of Brandon Chin's Mom. He said the story was inspired by a vandalism trip he went on with a friend's dad after his friend's mom had passed away.
Young's visit seemed to have a positve effect on those who were able to listen to him and I encourage everyone to dive deep into his novels!