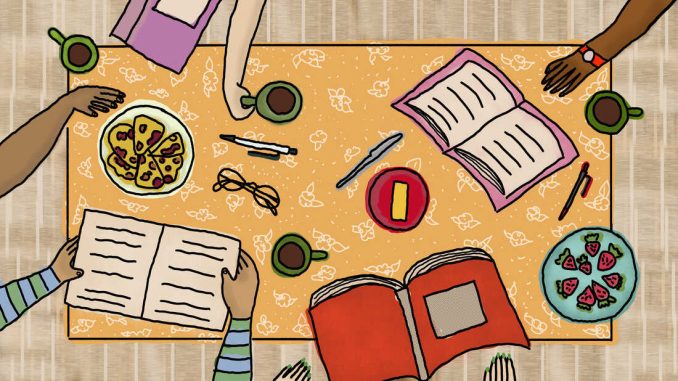 Alexa Di Palermo, Staff Writer |
Are you a person who loves to read, conversate, and relax? Do you feel you have no place to do so outside of class? If so, the Parnassus English Club is the perfect place for you!
You do not need to be an English major to join Parnassus. All you need to do is have an interest in the studies of English, literature, and other English-related activities at the college. I got the chance to speak with Vice President Alice Brennan about the club, and I think it would be a great one to join!
Brennan said the club is "a good way to connect everybody that's interested in literature." She said the club is also a great opportunity to "do fun stuff related to reading or writing!" The meetings highlight their objective, as they talk about everything related to English. Books, the department itself, and activities related to literature that are fun and engaging!
When I continued to ask Brennan about the club's biggest challenges, she said "I guess COVID made things a little difficult to get the word out about the club." For many clubs and organizations, it has been hard to get people involved due to the pandemic and the fears of it. But this would also be a great time to come together and talk about the literature you would use to entertain yourself in the middle of quarantine.
Brennan thinks the students of SUNY Oneonta should join Parnassus because "it's a really fun club, and a good way to bring people together and do English related activities outside of class." The most fun part is that anybody is welcome to join!
The meeting I attended was very fun and casual. To start, the environment was very relaxing. I did not feel any pressure while being there, I was able to kick back and be myself. This can be hard to find, and I'm so glad there is a place where I found it.
Everyone was super kind, funny, and welcoming. The members are looking for more people to get involved, and I think if you were thinking about getting involved on campus, this would be an amazing place to start.
It was clear there was a passion for literature in the room and, being an English major myself, this was very fun for me. We engaged in Halloween-themed literature activities, like Kahoots and spooky blackout poetry.
Parnassus is currently working on activities, like a book club, for students to engage in. It can be exhausting to constantly be doing homework on topics you may not have the most interest in but engaging in reading that entertains you is more relaxing. Having people to conversate with about the book only makes it more of a fun experience!
If you are interested in joining, come in and join the fun every Friday at 4:00 p.m. in Schumacher 102!