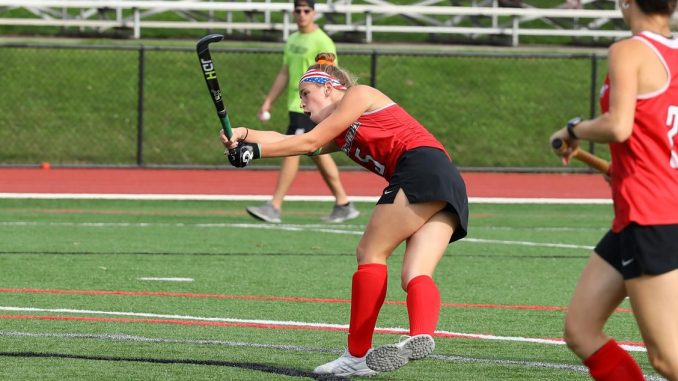 Chelsea Sookra, Staff Writer |
SUNY Oneonta field hockey kept its SUNYAC playoff chances alive with a 3-2 victory against Oswego at home in a must-win game. Morgan Fleming (Harpursville/Harpursville) led the way with two goals and Sophia Little (Northport/Northport) chipped in with a goal and an assist.
Oswego (8-7, 2-3 SUNYAC) jumped off to an early lead, scoring just over three minutes into the game. Kaitlyn Mastracco scored her 14th goal of the season to put the Lakers ahead early. Mastracco dribbled into the circle, weaving her way past opponents before burying a shot just inside the right post.
Over the next seven minutes, Oneonta (3-10, 2-3 SUNYAC) seemed to wake up as they gained control of the period, scoring three shots and earning a penalty corner. Fleming scored her first goal of the game in the 11th minute, thanks to Little's assist.
The Red Dragons controlled the play for the remainder of the first period and the entirety of the second, but were forced to settle for a 1-1 tie at the half.
Little gave Oneonta a 2-1 lead with her first goal of the season a little under four minutes into the third quarter.
Early in the fourth period, the Lakers scored a goal by Annie O'Neill, who had just entered the game.
In the 57th minute, with time running out in the final period, Fleming scored the game-winner, clearing up a shot by Little that had struck the post. Fleming got behind the goaltender to send the ball past the goal line.
Oneonta outshot Oswego 16-7, with 11 shots on goal. In addition, the Red Dragons earned 10 penalty corners while giving up only three. Kristy Campana (Melville/Walt Whitman), the starting goaltender, made four saves in the game to earn the victory.
Tomorrow Oneonta will host Rensselaer to finish their regular season. This game will take place at the All College Field at 4p.m.