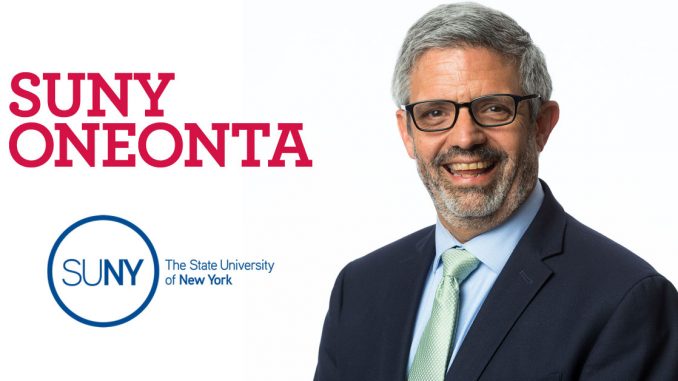 Rachel Dobkin, Business and Culture Editor |
As we said goodbye to Acting President Dennis Craig this past week, SUNY Oneonta welcomes Dr. Alberto Cardelle as our new President.
Although Dr. Cardelle now works in higher education, he got his start in public health where he worked for International Government Organizations like the World Health Organization (WHO) and the United Nation's agency United Nations Children's Fund (UNICEF). He has been to 34 countries, but he said his favorite is Spain. He has family there and he loves their "pace of life, love for art and literature, as well as their food," said Dr. Cardelle.
After his time overseas, Dr. Cardelle was inspired to get his doctorate and a job teaching public health to hopefully influence others to join the profession. His first job was at East Stroudsburg University in Pennsylvania, where he moved up to Department Chair and then the Dean of his department. He was there for 15 years and then he moved to Massachusetts to become the VP of Academic Affairs and Provost at Fitchburg State University. Dr. Cardelle said he loved "the ability to impact the lives of students and the communities that these institutions were in" as he moved up the administration ladder. After five years, Dr. Cardelle decided to apply for a Presidential position at SUNY Oneonta.
Dr. Cardelle has always heard great things about the SUNY system from colleagues and then he was forwarded an email about the vacant position. "The more I delved into it; the tradition of the university around experimental learning and applied learning and internships and all of that, was something that was very exciting," said Dr. Cardelle. He also thought our mission statement to nurture a community where students grow intellectually, thrive socially, and live purposefully was brilliant. These reasons along with the fact that SUNY Oneonta was similar to his past institutions compelled Dr. Cardelle to apply for the position.
With this transitional semester for not only the President but for the school as a whole, Dr. Cardelle has three goals: Safety for the school in terms of COVID-19, to bring back a sense of community, and for a reputation rebound. He is also very open to other ideas, which is why he will be meeting with not only the administration but students to hear what they have to say.  
Dr. Cardelle is passionate about public higher education, and he believes "institutions like Oneonta are a social and economic engine for this country that can transform lives. He went on, "we need to strengthen those institutions so that they can provide quality education for students way into the future."
Although his credentials are important, there is a lot more to Dr. Cardelle outside of campus. He has a wife, three daughters, and two cats, Milton and Baggy. They are currently looking into adding a dog and who wouldn't want to see these furry pets around campus after seeing former Acting President Craig's adorable dogs. Dr. Cardelle and his wife love to cook and run. They have completed half and even full marathons. He is also obsessed with coffee so don't be surprised if you see him at Starbucks or Latte Lounge.