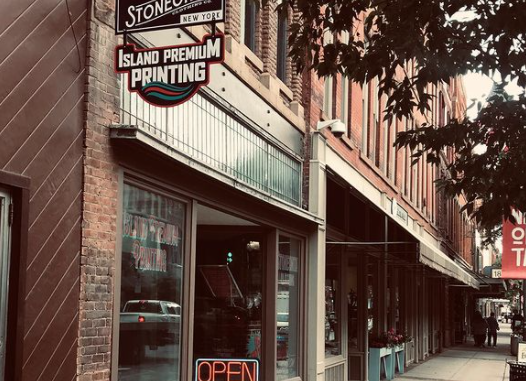 Ashley Hopkins, Staff Writer |
Students and staff were excited to come back to campus for the Fall 2021 semester. However, they weren't the only ones who were excited. Small businesses in the area were looking forward to getting back to the hustle and bustle from college students, as the businesses in the surrounding area of SUNY Oneonta and Hartwick rely heavily on that revenue to stay afloat. One of these businesses happens to be the beloved Stoneonta store.
If you are a college student or a resident in the area, the chances are high that you have at least one piece of Stoneonta clothing. Stoneonta is home to a variety of long and short sleeve tees, sweatshirts, hats, lighters, and more. Everything is printed by hand and in-house by the Stoneonta team.
When asked why Stoneonta may be so popular, Katie McCoy, a junior at SUNY Oneonta, said, "People like that it's created by alumni from Oneonta. People want to support a student-run business." Samantha Murray, also a junior Adolescent Education student, said that going to Stoneonta is a tradition. Once you start attending school here, it is only a matter of time before you buy your first piece of Stoneonta merchandise.
Tyler Walsh, the owner of Stoneonta, said that while the summer months are slower, it's their time to get ready for the upcoming school year. "The day after college is out, prep for the next semester gets serious," said Walsh. Walsh also mentioned they experienced a huge spike in online orders, making it their "best summer by far." It is clear that the name of Stoneonta has permeated to other places besides the local area, as "for years most orders were shipped within New York, but at this point, it's crazy to see how many are going all over the country on a regular basis," said Walsh. It's amazing to see a local business making a name for itself across the globe.
Like most businesses, Stoneonta also experienced a few bumps in the road due to the pandemic. "Prices have increased across the board, there is limited stock on almost everything if it's even available, and everything takes substantially longer to arrive. Many of our favorite garments to print on we couldn't even get this year, but we always have to be ready to adjust. For example, our Stoney skateboard decks would arrive at the shop in six weeks pre-pandemic and now take almost seven months to arrive," explained Walsh.
But Walsh isn't slowing down any time soon. He said that despite moving to the new location only four months prior to the start of the pandemic, "The brand was able to keep growing exponentially from the outpouring support even with the bumps in the road." He said to keep an eye on their Instagram (@stoneontaclothing) to stay up to date on the weekly new releases on Sunday nights or stop by the store on Fridays for the new in-store releases. Walsh and his team are also super excited about the designs that will be dropping for the Fall and Winter months.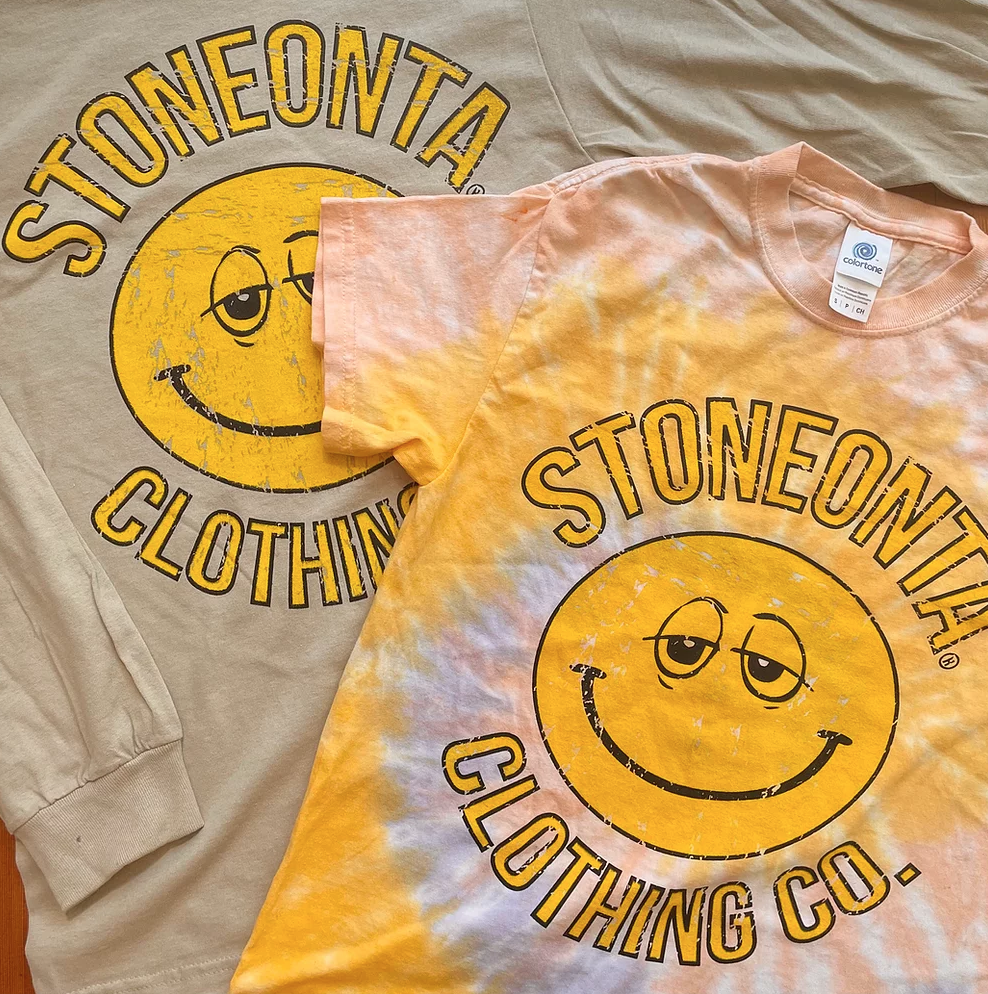 Can't get enough of Stoneonta? Then you'll be excited to hear that Walsh's new brand, Lawnguyland, (@lawnguylandclothing) has recently launched and can be found inside the Stoneonta store and online. Walsh says the new brand (that centers around the vibes of Long Island) has already blown up, and he's looking forward to expanding down to Long Island as well.
It is admirable that a small business has gained such a devoted fanbase and after speaking with Walsh, it is clear the brand is only going to grow. Besides shopping locally, you're also supporting someone's passion. "Stoney wouldn't be a thing if it wasn't for your support, and I truly appreciate that you guys allow me to do this for a living rather than be a miserable guy in a suit every day," said Walsh.