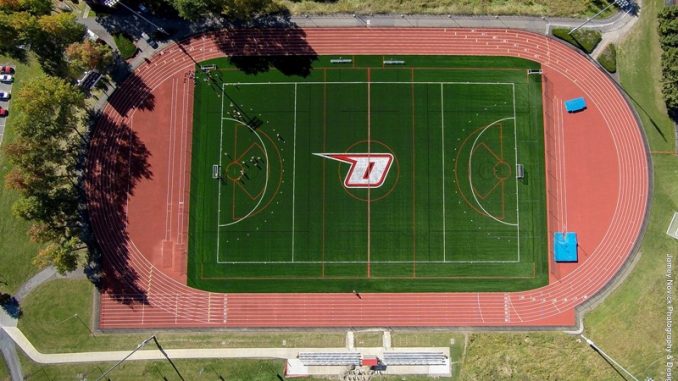 Rachel Dobkin, Staff Writer |
SUNYAC spring sports have resumed and SUNY Oneonta athletes are finally able to practice after missing a full year. The school's athletes seem optimistic of a safe and successful season.
Sophia Calabrese, a senior on the Women's Lacrosse team, is excited for this season, especially after being away from the field for so long. "It was definitely really hard news to get because we had been working hard and practicing for over a month at that point and just started our games," she said, reflecting on last year's cancellations. "When you are with your team so often and form such great relationships from playing together it is really difficult to hear that you're losing an entire season."
Calabrese went on to say, "It had been 11 months since any SUNY spring athletes were able to play their sport so I think spirits are high and everyone is working really hard to keep us safe and healthy so we can continue."
Cameron O'Connell, a distance runner for the Men's Track and Field team, had a different experience, being a sophomore who never had a season. He stated, "It was honestly such a relief. It was like a weight off our shoulders, especially as a distance runner where it's hard to take time off and still be really competitive. It's just been like a big mental strain to train on our own, train without races, without any expectation of competition, but now that we know we have it, it just makes everything so much easier. I feel way more excited and way more motivated than I have in the last couple of months."
Calabrese feels very secure with the safety protocols put in place. She said, "We do temperature scans before every practice, get tested at least once a week, wear masks 24/7, and still keep our distance during practices when possible. All other SUNYs are doing the same so by the time we have games I am very confident that athletes will be able to compete with no worry of exposure."
O'Connell was a little more hesitant at first but is more confident about having a safe season now. He said, "At the start, I was a little weary of things just after how poorly the fall semester went, but after being seven weeks into school, I feel a lot more confident. I think Oneonta's been able to handle the situation really well and from what I understand all of the other SUNY schools have to follow the exact same guidelines, so before you even get to your race day the competitors have to test negative, so I think because of that I feel pretty confident."
Although athletes were put on a two-week pause on Feb. 23 due to an increase in positive pool testing across campus, Calabrese and O'Connell are still hopeful for a successful season. "Everyone has felt mentally and physically really prepared. Everyone feels great and running is great," said O'Connell.
Both athletes feel extra pressure to not only perform well but follow the necessary COVID safety protocols so they can make it to their competitions. "Athletes are held to a higher standard in general, so now that COVID is such a large factor in our season we have to make sure we are doing everything we are supposed to both on and off the field," said Calabrese.
O'Connell expanded on this, saying, "As an athlete, you don't get to just do it for you, you have to represent your team and your coaches, and the athletic department as a whole. I think despite it being stressful it's not a terrible feeling. If anything, it feels rewarding what we get to represent the school."
Due to COVID restrictions, spectators are not allowed at games, which can be heartbreaking for athletes, especially senior athletes. Calabrese said, "Our parents not being able to come see our last games for however long they will last not only hurts us and them but also changes the entire atmosphere of competition."
Calabrese went on to say, "We are trying our hardest to make the best of this season, but it is very hard to have the same feel as it has in the past with the various safety restrictions that are in place."
Tracey Ranieri, Director of Athletics, said, "I have been so impressed with the resilience of our athletes. Very few can understand what a college athlete gives of themselves every day to be their best. The grind, that we love, is even harder in a COVID climate. Our students are not deterred, a big thank you for their sacrifices, they know how to win." It will be great to see Oneonta athletes be able to compete once again this spring.