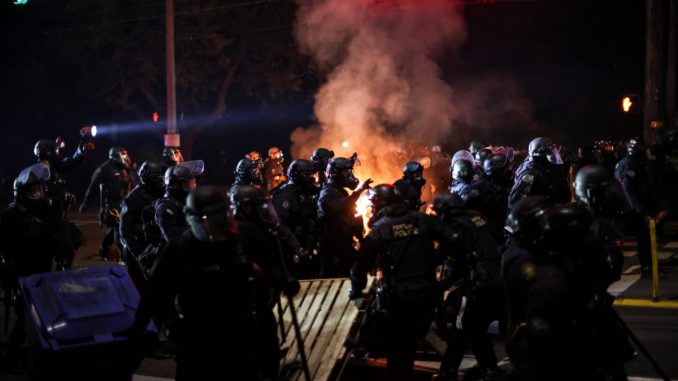 Hannah Lonergan, Staff Writer |
The murder of George Floyd at the hands of police on May 28 sparked major protests. These protests have continued for the past three months, bringing ongoing violence to the streets of Portland, OR. Beginning on the day of Floyd's death, protestors flooded the streets of Portland alongside other cities across the country. Floyd was murdered by police in Minneapolis, MN after he was pinned to the ground by officer Derek Chauvin while being arrested for allegedly purchasing cigarettes with a counterfeit bill. Security and pedestrian footage captured the murder and since then his death and police brutality have been everywhere in national spotlight.
The murder of George Floyd has been one of many systematic murders of black people in the United States by police officers.
Demanding police reform and widespread systematic racism, protestors in Portland have gained the media's attention after officers were deployed to take control of the situation. Using military tactics of flash-bang grenades, tear-gas and rubber bullets against peaceful and non-peaceful protestors, the police authorities stationed in the area have attempted to take control by arresting 59 people on Sept. 5, according to the Portland Police Bureau. This was the most arrests in a single night of protests, and according to The Oregonian, some individuals at the protest reacted to police blockades by throwing Molotov cocktail-like weapons.
During the majority of the 101 nights of protests in Portland, police responded to the group of protests by claiming they were starting a riot and disseminating tear gas onto the crowd, according to The Oregonian.
There is a widely popular belief that the violence in Portland is a necessary form of activism for moving the revolution against systematic oppression and racism. These social justice issues have become polarizing battles between the 'political left' and 'political right.' Portland's political-ideological division has protested in support of the police, as well as protestors who demand that the police and its system to be abolished altogether.
The mayor of Sandy, OR, a town just 27 miles away from Portland, responded to the long-term protestors, "neither movement has asked our leaders for any kind of concrete action."
Issues of gun violence and police brutality continue to rise as the demand for guns and ammunition has risen exponentially with 70 percent of these purchases coming from first-time gun owners, according to the New York Times.
Nevertheless, not all of the activism in Portland against police violence has been considered a riot. Other non-violent protests against police brutality and racism have occurred in Portland. Two park sit-ins in the area had music and drum lines, as well as featuring black and indigenous speakers and performers. There is no doubt that protests and other projects will continue in Portland in coming weeks. As the next presidential election looms over the heads of the "right" and the "left," combativeness is sure to continue until there is some kind of resolution.