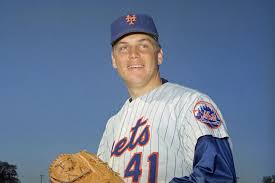 David D'Annibale, Sports Writer|
On Aug.31 legendary pitcher of the New York Mets, Tom Seaver, passed away after complications from Lewy Body dementia and COVID -19.
The Mets held a special tribute for Seaver during their home game against the Yankees on Sep.3. The team honored Seaver by having all the players rub dirt on their knees. The reasoning behind the gesture was to honor Seaver's iconic pitching motion. Mets players then tipped their caps towards his retired number, 41. They also held a moment of silence, followed by a tribute video. The Mets' dugout kept a Seaver jersey hung throughout the game. The Mets ended up defeating the Yankees 9-7 after JD Davis hit a game-tying homerun in the ninth inning, Pete Alonso hit a walk-off homerun in the tenth inning. The team plans on making a commemorative patch that the team will wear for the rest of the season.
Seaver's baseball career benefited the Mets, his phenomenal pitching helped lead the "Miracle Mets" to their first world series win in 1969. Seaver reached the major leagues back in 1967 and took off from there. In his rookie season, he received the National League Rookie of the Year award after winning 16 games, 170 strikeouts and having an ERA of 2.76. Seaver's career lasted for 20 years. Over the years he has won 311 games, become a 12-time all-star and win 3 CY Young awards. He also had a career ERA of 2.86. Over the span of his career, he earned the nicknames "Tom Terrific" and "The Franchise." Seaver played for the Mets, Red Sox, White Sox and Reds. After retiring from baseball, Seaver was elected to the Hall of Fame in 1992.
As the baseball community loses one of its greatest pitchers, it helps remind us of everything he has done for the game. Seaver may be gone but his impact and the memories he created for the Mets will never be forgotten.