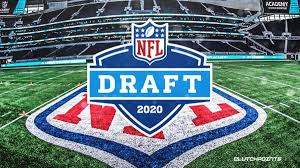 David D'Annibale, Staff Writer|
The 2020 NFL draft will still take place April 23 through the 25 but with one major difference. This year, the draft will not take place in Las Vegas due to COVID-19 and instead will be conducted completely online. Commissioner Rodger Goodell will announce every choice from his home. Prospects will stay at home, and the league will send cameras to homes. All 32 teams will have tough decisions ahead.
In this year's draft, teams cannot meet with players in person. Some of the top prospects include Joe Burrow, Tua Tagovailoa, Chase Young, Jeff Okudah and Justin Herbert. The Cincinnati Bengals currently hold the number one overall pick and are in desperate need of a franchise-changing player after a devastating two-win season. All mock drafts have the Bengals selecting quarterback Joe Burrow. Quarterback Tagovailoa is another potential choice if the Bengals look past his injury history. However, expect Burrow to be locked in as the number one pick unless Cincinnati trades their pick to another team.
Other teams in need of a quarterback include the Miami Dolphins, Los Angeles Chargers and New England Patriots. One of the teams will have to make a trade into the top four if they want to get the best quarterback.
The Dolphins hold three picks in the draft, including the fifth pick. We may see the Dolphins trade with the teams ahead of them. It would require a lot to convince the Redskins to move from the second pick. The Redskins have a chance to get the top-rated defensive player in the draft with edge rusher Chase Young. Young had a phenomenal year at Ohio State with 16.5 sacks and caused six fumbles. He may be the piece that the Redskins need to transform their defense.
This draft holds one of the best receiver classes. Potential selections include wide receivers Jerry Jeudy, Henry Ruggs III and Oklahoma star Ceedee Lamb. The Jets could be the first team to select the wide receiver after losing Robby Anderson to the Panthers in free agency. They also have a strong need for an offensive tackle. It would not be surprising to see the Jets take a top lineman if available. Some names to keep an eye on include Mekhi Becton, Tristan Wirfs and Andrew Thomas.
The draft has the power to push a team to the next level. This year's draft will reshape the league as many talented prospects look to make an instant impact like Saquan Barkley did for the Giants or Jamal Adams did for the Jets. The 2020 season is shaping up to be an exciting year as fans prepare for the first virtual draft.