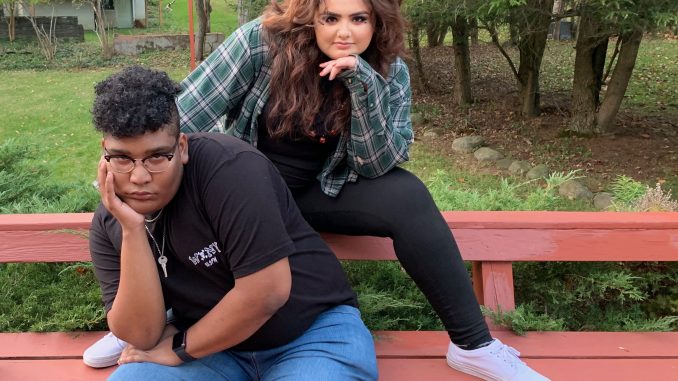 Riley Brown, Contributing Writer
WONY Radio is proud to announce that this week's DJs of the Week are Alina Amin and Rob Guerrero! 
Alina is a senior studying psychology, sociology, and criminology at SUNY Oneonta. She is also the President of the National Alliance on Mental Illness (NAMI) – a club dedicated to de-stigmatizing mental illness through education as well as supporting the campus community. This is her first semester with WONY as an on-air DJ and as an official member, but throughout her time at Oneonta, she has slowly gotten to know and become friends with all of the executive board members, so she says she's always felt like a part of the WONY family. "It got to the point where I would hang out with members of WONY so much that they forgot I wasn't a member," she tells us. "It's about time I finally joined!"
Amin and Guerrero co-host a show together. Guerrero is a senior media studies major and the events director of WONY. He also hosts another show called "The Untitled Show." Together, their show is called "Sleepytime Tea," which airs on Thursdays from 8 p.m. to 10 p.m. The show is a specialty show where they play songs by artists who have news in the headlines. After they play their music, they discuss those headlining stories to update their listeners on what's going on in the music/pop culture world. "We have a lot of funny, casual banter and play games on the air such as the "Newly-Friend Game" or "Would You Rather," Amin goes on to explain. "Hosting the show with Rob is such a blast! There's no one else I would rather have my show with!"
"I absolutely adore WONY and I am so thankful to be a part of it," Amin said. "I joined because of my friends and I have met even more wonderful people throughout my training and by attending station events. I have never once felt like an outsider; WONY celebrates you for who you are. All of the executive board members want you to be involved and succeed, whether you are just a station member or an on-air DJ. I can't imagine my college experience without WONY… my only regret is that I didn't join sooner!"
Tune in to "Sleepytime Tea," Thursdays at 8 p.m.! Interested in joining WONY? Contact our Training Director at [email protected] and don't forget to Keep It Locked!