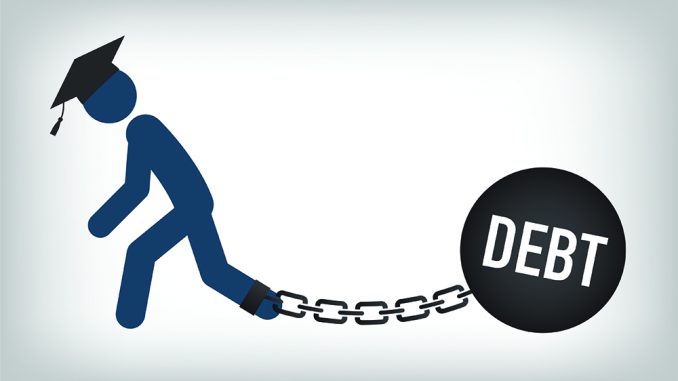 Jessica Kennedy, Staff Writer
The student debt crisis is hurting young adults all across the United States. According to the Federal reserve, 45 million people have student loans to pay off. From those people, $1.5 trillion is owed. That debt is the second highest in the county, just following mortgages and in front of credit cards.
A OnePoll study sponsored by Splash Financial conducted a study of 2,000 college students and post-grad students to see how university debt affects their lives. Almost 90 percent said their debt is a considerable financial burden. Many consider the things they would do to erase all of their debt.
Fifty percent of those analyzed said they would shave their head for a clean slate. Forty-nine percent would walk to work for a month, 40 percent would never have caffeine again, 40 percent would relive high school over again, 40 percent would never take time off work for an entire year, and 39 percent would spend a week in jail.
The financial burden of having thousands of dollars in student debt makes so many young adults consider extremes to not have to worry about paying back their loans over decades. Eighty two percent of people participating with OnePoll say their debt affects major life decisions. Many already sacrifice some part of their lives to save a little extra money. This includes avoiding going out to dinner or to bars with their friends, enduring more than one job, living with roommates, not having a car, and not traveling to visit family members and friends for important events.
In terms of a stable future, these enrolled and post-graduate students don't have much faith for financial security. Forty three percent of the graduates believe it is financially impossible for them to buy a house. Another 43 percent said their debt is making them unable to save for their future including children's college funds and their own retirement. The graduates participating in the poll also believe it to be impossible for them to move to a new city or house, get married, have children, or even buy a life insurance policy.
With all of these sacrifices and impossibilities, students believe an extreme situation such as spending a week incarcerated will be a small price to pay for financial stability in their future. To them, it seems more plausible to do one thing than spend most of their future paying back loans. Among these hypotheticals there is a TruTV show called "Paid Off with Michael Torpey." Each episode includes three post-grad students answering trivia questions about their major or general knowledge to win money towards their debt crisis. There's even a segment for live viewers to call the show and answer questions on the live episode to win money. This newest season awarded more than $1 million toward paying off student debt.
Besides hypothetical extremes and participating in game shows, there are numerous websites designed for college and graduated students to learn how to make paying back loans easier. Since the harsh reality for students is being in substantial debt in order to receive higher education, one thing all students can agree on is federal and administration reform of college tuition.