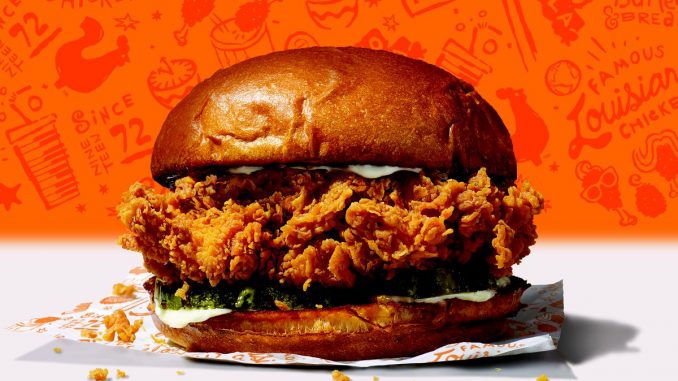 Phelysia Lewis, Contributing Writer
A man was stabbed to death at a Maryland Popeyes after he allegedly cut the line for the restaurant's re-released chicken sandwich.
Kevin Tyrell Davis was stabbed outside the restaurant in Oxon Hill at around 7 p.m. and was pronounced dead at the hospital.
The horrific ordeal was captured on camera and showed how a fast food restaurant turned into a homicide scene in a matter 15 seconds. Police Chief Swansiki of the George County Police Department told reporters surveillance footage showed several people waiting in line specifically for a chicken sandwich when Davis entered the store and cut the line.
"Another man confronted Davis about his conduct, and 15 seconds later the two went out the restaurant door and Davis was stabbed," said Swansiki. The surveillance video shows that there were families with their children inside who witnessed the traumatizing incident.
While an investigation is underway, police hope the suspect will come forward. Jennifer Donelen, a spokeswoman for the Prince George's Police Department, held a press conference and asked anyone who was inside the restaurant at the time of the fight to contact the police with any information.
"For you to get that angry over anything — for that type of anger to develop into this type of violence, again is a very sad and tragic day, and that person needs to turn their selves in" said Doneun.
They released a photo of the suspect the following day hoping to help the public find the man.
The Popeyes spicy chicken sandwich was released on Aug. 12, but popular demand caused the chain's supply to sell out by the end of that month after it went viral.
The chain's popular sandwich has caused long lines around the country, a wave of memes on the internet, and a marketing battle between Popeyes and Chick-fil-a.
Though a stabbing has never happened before, there have been many incidents where violence has ensued over the Popeyes chicken sandwich.
Just a day later in Columbia, a Popeyes employee was arrested after police say he body-slammed a customer, WSMV reported.
Debra Staggs, 55, says she went into the restaurant to get a refund and that the manager "immediately began insulting her," according to the news outlet. An employee's husband says Staggs hurled a racial slur after she was overcharged for a sandwich.
Staggs' lawyers say she suffered a broken knee and six cracked ribs. Hughes was charged with aggravated assault.
Back in September, Houston police say a man pulled a gun after learning a local Popeyes was out of chicken sandwiches.
The customer allegedly got angry with the sandwich shortage and threatened employees at a franchise in Texas.
Also, a brawl broke out in Brooklyn when a customer says she paid for the last sandwich that was ultimately given to someone else, causing an argument and a fight between the women and the employee.
What is clear is that no one should have to die over a senseless chicken sandwich. A memorial was laid at the location where Kevin Tyrell Davis died as friends and family came to place flowers and honor him.
In a statement, Popeyes said that they were saddened by the incident. They said, "We do not yet know whether this was the result of a dispute over one of our products or something unrelated, but there is no reason for someone to lose their life on a Monday night in a parking lot,"
They state, "Our thoughts are with the victim's family and friends and we are fully cooperating with local authorities."
A GoFundMe created by Yolanda Barnes to help cover funeral expenses raised $4,500 in less than 24 hours. The fundraiser has a goal of $35,000.