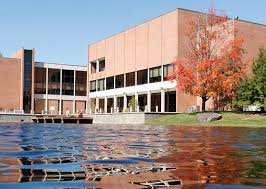 Casey McShea, Arts Editor
Hunt Union will begin to receive its latest round of renovations this week, according to an email sent out by SUNY Oneonta's Chief Facilities Planning and Safety Officer, Lachlan Squair, to students on Nov 1. The student union began initial renovations over the summer
The latest phase of renovations to Hunt are expected to include a comprehensive refurbishment of the west wing of the Union, where the current international lounge and former Red Dragon Outfitters are currently located. WONY, 90.9 the school's radio station, will be relocated from Alumni Hall to Hunt Union as well. The radio station will also be receiving new equipment.
Temporary walls are set to be constructed so that students and other visitors to the Union will still be able to access Starbucks and the Living Room. These areas will remain open through the project. The information desk, where students can buy tickets to on-campus events such as Theatre Department shows, Red Dragon Theater movies, and find out information about other events going on on campus will temporarily be relocated to the Dragon's Lair. The Dragon's Lair will also remain open during the project.
The current Huntington Hall renovation project is changing the layout of the building, changing from a quad-style building to a double-style hall, according to Squair. The new hall will include floor study rooms and laundries and kitchens. In addition, the bathrooms in Huntington will be private, meaning they will be in the hallways, but include individual showers and/or toilet rooms rather than the communal bathrooms in other double-style buildings. The newly-constructed area currently facing Grant Service Drive and Macduff Hall is for additional amenities space and a new elevator. The new space will include service spaces, a large fitness center, group study rooms, and a kitchen space.
According to a press release from the State University of New York (SUNY) , the project is costing $20 million and "is part of more than $70 million in capital renovation projects Dormitory Authority of New York (DASNY) is beginning this summer on SUNY campuses statewide. The renovation is being financed through the SUNY Dormitory Facilities Program, by which DASNY issues low-cost tax-exempt bonds supported by student residence hall fees."
Aside from physical changes, Huntington is also planned to become SUNY Oneonta's first-ever Sophomore Success Community (SSC), according to Residential Life Director Tyler Miller. The SSC will be similar to the current First Year Experience (FYE) program, with programs designed specifically for sophomores.
"We are exploring additional supports for second year students and are hoping to asses the model so we can scale up to provide additional offerings to help our second year students be successful," Miller said.
Both buildings' renovations are set to be completed early fall 2020. Future plans for campus renovations include a comprehensive renovation of Ford Hall that is set to begin in summer 2021 and be completed by the fall 2022 semester. The housing format will be similar to Huntington's.