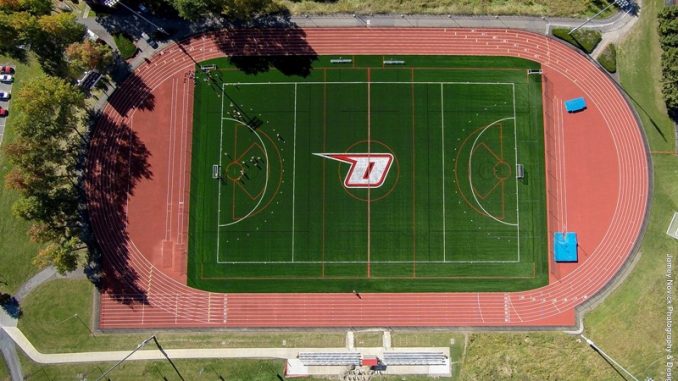 Colin Maruscsak | Staffwriter
Oneonta hosted the annual Mayor's Cup Soccer Tournament this weekend at both the Hartwick and SUNY Oneonta campuses. On Saturday the Oneonta Red Dragons faced off against the Saint Lawrence Saints at Red Dragon Field. It was an overcast day, but the Red Dragons came out with intensity, beating the Saints 4-2. Oneonta goalkeeper Francesco Scotti had a great outing with five saves, including two in the seventh minute off a Saint Lawrence free kick, another two coming in the twentieth minute on a Saint Lawrence free kick, and lastly a clutch save in the seventy-seventh minute to protect the lead for a Red Dragon victory.
The Red Dragon offense was at full power, scoring early and often throughout the match. In the sixteenth minute sophomore Matt Howe scored off a deflected ball. Soon after in the thirty-second minute, the Red Dragons scored two more unanswered goals, one off a corner kick by Matt Howe finished by freshman Malcolm Swett, the other coming off the back of Lucas Fecci's dribbling skills weaving through the defense of Saint Lawrence before setting the ball up to his teammate Witman Hernadez. Shortly after Saint Lawrence got on the board with a goal coming off a quick counterattack. Oneonta answered right before the half with a goal from sophomore Arkadij Raiz.
At the start of the second half, the score was 4-1 in favor of the Oneonta Red Dragons. The second half was hard fought, but Oneonta's strong defense held the Saints to only one goal in the fifty-ninth minute off a free kick outside of the box. While Oneonta still dominated possession throughout the game, the Saints stepped up their offense in the second half, ending the game with a total of 16 shots throughout the match.
On Sunday Oneonta squared off against Penn State-Harrisburg, continuing to show their high-powered offensive attack, making light work of Penn State-Harrisburg, defeating them 4-0. Whitman Hernadez had a fantastic outing scoring three of the teams' four goals. His first was in the sixteenth minute off a pass from outside the box by Arkadij Raiz, his second in the forty-ninth minute was from a long ball over the top into the box from his teammate Scott Cebollero. Cebollero contributed by scoring the teams other goal off a penalty kick in the forty-seventh minute. The last goal came near the end of regulation in the eighty-second minute from a cross on the end line that was headed in by Witman Hernadez.
Oneonta's men's soccer team looked dominant this weekend, scoring four goals in both of their games and averaging over fifteen shots per game. Their next match is against Sage College this weekend. Remember to follow them online on their webpage oneontaathletics.com for more info not only on the men's soccer team, but for all of Oneonta's sports teams.