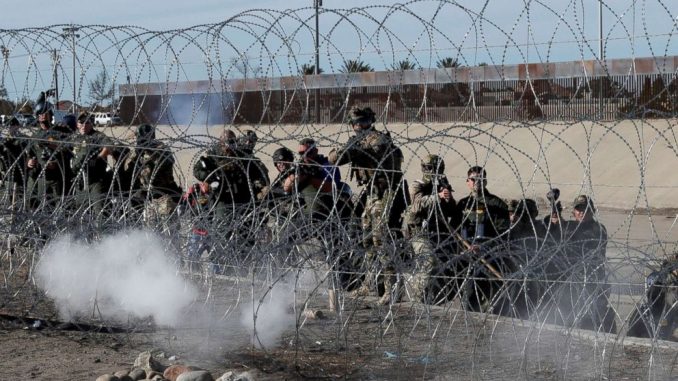 Maggie McCann, Contributing Writer|
On Sunday, November 25, at the San Diego-Tijuana border, an attack occurred in which pepper spray and tear gas were used on children attempting to cross the Mexico-United States border.
On the Monday following the incident, Trump made a statement defending the actions of the patrol officers, saying, "They were being rushed by some very tough people and they used tear gas… Here's the bottom line: nobody is coming into our country unless they come in legally." When mentioned to the President that parts of the crowd of "very tough people" included mothers and children, Trump proceeded to blame the mothers for bringing their children into a dangerous situation.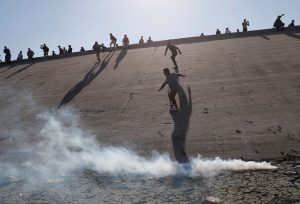 An article published by Time mentioned that the President's statements regarding the incident included the assertion that "some of the women are not really parents but are instead 'grabbers' who steal children so they have a better chance of being granted asylum in the U.S."
A number of people were apprehended on both sides of the border. For many this was devastating, as offending the United States' curent asylum law makes it almost impossible to be granted asylum legally. In response, the United States sent additional forces to the Tijuana border resulting in the migrant group splitting up. Some went toward the border and successfully crossed before being apprehended in the U.S and others went toward the Tijuana river channel where they attempted to make their way into the U.S.
In a statement, U.S. Customs and Border Protection Commissioner, Kevin McAleenan, explained ironically that four agents were hit with rocks, but because of their protective gear they were not seriously injured. He continued, acknowledging that possibly more than 1000 people had attempted to cross the border on that Sunday.
CNN released an article containing a statement by house Democrat and New York Representative Jerry Nadler, in which Nadler describes the issues surrounding legal asylum for Mexican immigrants: "Our laws allow asylum seekers to apply for asylum at our southern border, but there is really no clear policy on how to do that, Nadler added. And that kind of confusion inevitably leads to desperate incidents like those we saw yesterday." As for what comes next, Mexico's government stated they would be deporting the 39 people detained on the Tijuana side of the border. Many who attempted to cross the border to the U.S may be out of options as crossing the border illegally eliminates any chance of receiving asylum by the United States government. On Monday morning, President Trump tweeted that the United States may "close the Border permanently if need be."