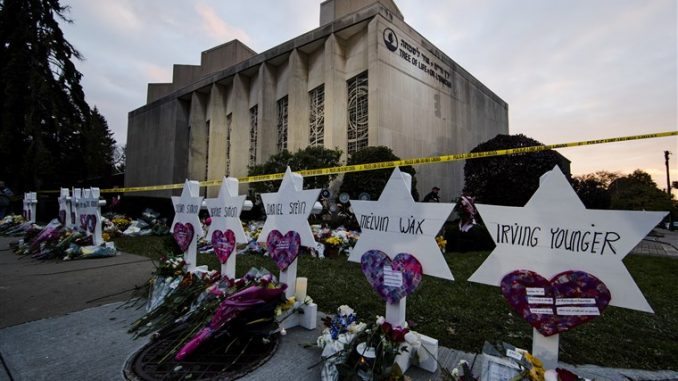 Tara O'Leary, Staff Writer |
On October 27, a man with an AR-15-style assault rifle and three handguns opened fire on congregants at the Tree of Life synagogue in Pittsburgh, Pennsylvania. The shooting took 11 lives and wounded six people. Robert D. Bowers, age 46, was identified as the shooter.
The 9:45 a.m., Saturday service had only been underway for a few minutes when Rabbi Jeffrey Myers heard a loud sound coming from the lobby. Originally, Myers thought the noise was a falling coat rack but then the sound rang again. "It was apparent to me that it was not the sound of a piece of metal falling," he said, "It was rapid fire." Myers began evacuating congregants out of the sanctuary in small groups. The gunfire grew louder as he moved one group to safety, and he couldn't go back to get the rest of the congregants. Of the eight people that were left in the sanctuary, seven of them were killed.
At 9:54 a.m. police dispatchers received the first emergency call, sending officers and a SWAT team a minute later. Bowers was on his way out of the synagogue when the officers arrived. The two sides exchanged gunfire as Bowers went back inside. He retreated to a room on the third floor before eventually surrendering.
With the lives lost on that Saturday morning, the Tree of Life shooting is the worst anti-Semitic attack in U.S. history. Police sources say that Bowers walked into the synagogue shouting, "All Jews must die." Following the shooting it was discovered that Bowers owned 21 registered guns; and that he had a page on Gab.com where he shared posts with anti-Jewish slurs and racist memes. Shortly before Bowers showed up at the synagogue, he made one last post; "I can't sit by and watch my people get slaughtered. Screw your optics, I'm going in." His account opened in January with the page bio reading "Jews are the children of Satan."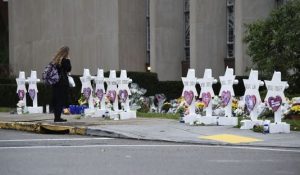 On the following Monday, October 29, Bowers first appeared in court where Judge Robert C. Mitchell read out the 29 criminal charges he faced. At his Thursday hearing he plead not guilty to the 44 count grand jury indictment against him. Bowers could be charged with hate crimes, obstructing the practice of religion and murder. He could potentially face the death penalty. For now, Bowers will be held without bail.
The shooting in Pittsburgh came shortly after a Florida man was arrested on charges of mailing bombs to Democrats. In the wake of both events, many have argued that President Trump is partly to blame. Trump has denied these claims. "The scourge of anti-Semitism cannot be ignored, cannot be tolerated and cannot be allowed to continue," said Trump in response to the shooting. He also argued that if the synagogue "had some kind of protection" then "it could have been a much different situation." After Monday's hearing, it was announced that the President and the First Lady would visit Pittsburgh, but many did not want them there. Bend the Arc: Jewish Action, a group focused on social justice, wrote a letter stating that Trump would not be "welcome in Pittsburgh until you fully denounce white nationalism." This letter had 26,000 signatures.
While Rabbi Myers would've welcomed the President to Pittsburgh, he also had criticism for Trump, saying "Mr. President, hate speech leads to hateful actions. Hate speech leads to what happened in my sanctuary, where seven of my congregants were slaughtered. I witnessed it with my eyes."
Over the years, mass shootings have become a common tragedy in the United States. According to the New York Times, the shooting in Pittsburgh is at least the third mass shooting in a place of worship in three years. Last November, 26 people were killed at a church in Sutherland Springs, and in 2015 nine were killed at a church in Charleston. Eric S.C. Manning, the pastor of the Charleston church, paid Rabbi Myers a visit after the shooting. "We are part of a circle that no one wants to be a part of," said Manning, "What we have to do, today, and every day, is to make sure that that circle doesn't get any bigger."