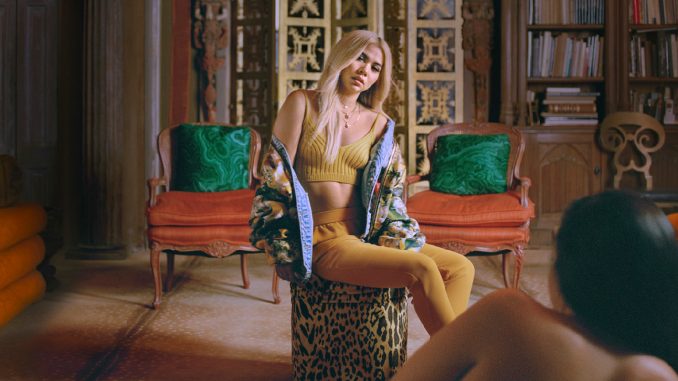 Katie Hébert, Staff Writer |
Art is an avenue to produce truth and tell stories, in which it is a form of activism and opens doors for certain narratives to be heard. One particular artist known for sharing her stories and speaking unapologetically, Hayley Kiyoko, tells her truth fully in her music, as evident in her debut album, "Expectations."
Kiyoko did a lot of acting throughout her adolescence in various roles. She is best known for her role in the Disney original movie "Lemonade Mouth." Kiyoko released her first EP, "A Belle to Remember" in 2013. In 2015, she released her second EP, "This Side of Paradise," in which her self-directed music video for hit single "Girls Like Girls" became viral, proclaiming her lesbian identity. Her third EP, "Citrine," came out in 2016, with her single "Gravel to Tempo" documenting the emotions of understanding her queer identity. With her dedicating her music to girls who like girls, Kiyoko gained the nickname "Lesbian Jesus" from her fanbase.
Her debut studio album, "Expectations," which came out in 2018, draws on that nickname and documents the experiences of navigating her queer identity, understanding relationships and heartbreaks, and can be considered an album of self-love and acceptance. The album's tracklist demonstrates the emotional rollercoaster of being queer, in which Kiyoko tweeted on the release day: "MY DEBUT ALBUM OUT NOW. I encourage you to listen to it in order from beginning to end as it was intended, Love Hayley."
The 13 song album purposefully goes through a story, with the first track "Expectations: Overture" setting the instrumental tone of a dream, with the only vocals being "Oh, Yeah, I only wanna…" going into her second single and second track on the album, "Feelings." "Feelings," with the music video directed by Kiyoko herself (as all her music videos are), depicts Kiyoko's open feelings of having a crush and trying to break away from society's expectations of hook-up culture where people shouldn't be attached. The lyrics, "I over-communicate and feel too much / I just complicate it when I say too much / I laugh about it, dream about that casual touch / Sex is fire, sick and tired of acting all tough / I'm hooked on all these feelings / I know exactly what I'm feelin'" demonstrate this idea. Especially since queer women are hypersexualized and their relationships are viewed as being purely sexual and physical according to heteronormativity, Kiyoko breaks that idea and embraces having feelings that move beyond physicalities.
"Feelings" ends and transitions perfectly into the next track, "What I Need," which features musical artist, Kehlani, who also recently came out as pansexual. The music video for this song depicts the meaning of the song well, as there are two friends who end up admitting how they feel about each other after much hesitation and confusion. Kehlani opens the song: "All the back and forth getting complicated /Running me around got me frustrated / If you wanna make it work, baby, gotta say it / Need a little more than participation," which shows the need for clear communication of where they are in the relationship. In the music video, we see how Kehlani gets in a fight with her aunt over her relationship with Kiyoko, which connects to Kiyoko's verse: "When we're all alone, girl, you wanna own it / When we're with your fam, you don't wanna show it / Oh, you're tryna keep us on the low / I only want a girl who ain't afraid to love me / Not a metaphor of what we really could be." Navigating a queer identity is difficult, but this song shows an urgency to embrace such feelings instead of leading someone on or keeping someone a secret.
Other songs on the album, like "Sleepover" and "Curious," show the other sides of being a queer woman navigating relationships. "Sleepover," the first single off the album, is a softer song that describes the pain of falling in love with your straight best friend, with lyrics like "I don't wanna talk about it / I don't wanna think about it / I'm just feeling low, feeling low / Even when you're next to me / It's not the way I'm picturing / But at least I got you in my head," whereas "Curious," the third single on the album, depicts the frustrations of Kiyoko's real experiences as a girl who likes girls, in which Kiyoko explains, "I date a lot of women who are into it, but they're uncomfortable with society's pressures. They're uncomfortable with liking girls even though they do." This song also shows the hypersexualization of queer women, where things are strictly physical and lack emotional communication: "I can handle things- like I wish that you would / You've been out of reach, could you explain? I think that you should / Calling me up, so late at night / Are we just friends? / You say you wanted me, but you're sleeping with him / I'm just curious, is it serious?"
The album ends with the song "Let It Be," showing the ending of this story and moving on from hurting and heartbreak: "I believe we're the ones who had it all / I believe we just had to learn to fall / I miss you, I love you, so it's really hard to see / Yeah, we just got to let it be," in which hardship is inevitable but it will get better.
"Expectations" represents multiple scenarios of what being a queer woman is like, and pushes to have LGBTQ+ folks embrace their identity with pride. Kiyoko's honesty and truth shine through this album to celebrate her identity, and as a lesbian woman of color she represents a narrative that isn't heard enough and provides a space for positive representation. Not only is this album influential and important, but all the songs are jams. Streaming on Spotify, give Hayley Kiyoko a listen and support queer women of color.