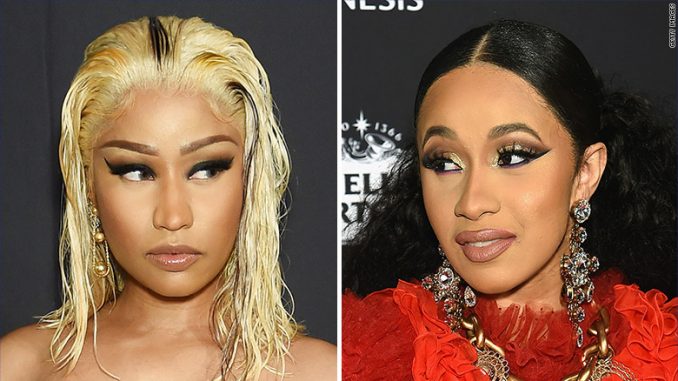 Tara O'Leary, Staff Writer |
The ongoing saga of Nicki Minaj and Cardi B's feud continues once again. With new accusations being thrown and information about the infamous "knot" Cardi sported on her forehead after causing a fight at New York Fashion Week, the two rappers went head to head on social media.
The newest portion of news surrounding their bad blood began on October 28, when Cardi's sister Hennessey accused Minaj of leaking the rapper's phone number. The next day, Minaj took to her Beats 1 show "Queen Radio" to deny leaking the number. There she also revealed that Cardi was not hit by security at Fashion Week but was actually hit by Minaj's friend Rah Ali. Minaj boasted about the fight, saying "The minute Rah let your head up, I saw the knot on your head."
After Nicki's "Queen Radio" tell all, Cardi B responded with 10 (now deleted) Instagram videos where she told her side. "You lie so much you can't keep up with your f–king lies," she ranted. Cardi took shots at Minaj's deals and collaborations, insisting that she got offers first. The rapper brought up Minaj's latest collaboration with UK girl group Little Mix.  "That 'Woman Like Me' record? Yeah, I had to decline it because I'm doing a lot of pop records," she said, "But that came to me first, and then they give it to you."
It didn't stop there. Once she mentioned Little Mix, the group got involved. The girls posted a statement on both Twitter and Instagram explaining that they actually did offer the feature to Minaj first. When her reply was delayed, they sent the offer to Cardi. However, as soon as Nicki agreed, Cardi was no longer an option. "We went with Nicki because we've said over and over for years, it's been a dream of ours to work with her since the beginning," they wrote.
In response to Cardi B's videos Nicki Minaj came to Twitter with her own ideas of how to set the record straight. Some of her thoughts included doing a lie detector test together or doing an interview on "Queen Radio." The other option she offered was actually music based. "We can both sit in a room together, hear a beat for the first time, and have ourselves filmed writing to it," she tweeted. This option likely comes because Minaj does not believe that Cardi B writes her own raps.
During their back and forth, Minaj also argued that she was offered a deal from Steve Madden before Cardi was. However, the company replied "you can't turn down an offer that was never made. #StopLying." Minaj replied to their tweet with a tweet of her own saying that Madden "came to my house in Malibu begging me to do the deal. I said no. You then did a deal w/Iggy and she hated the pics." Iggy Azalea chimed in to confirm that what Nicki said was true. 50cent also came to Minaj's defense on Instagram with a screenshotted article where Madden talks about working out a deal with Nicki. After many exposed that what Madden said wasn't true, he came back to Twitter saying "the timing wasn't right," when they tried to make the deal and apologized for adding to the negativity.
Following multiple exchanges that left many choosing sides, the two rappers have called a truce. "Let's focus on positive things from here on out," tweeted Minaj, "I know this stuff is entertaining & funny to a lot of people but I won't be discussing this nonsense anymore." Cardi then posted a screenshot of the tweet on her Instagram with the caption "let's keep it positive and keep it pushing!" So for now the feud has subsided with both rappers looking to move forward.
It may be hard to believe but there was a time when these two got along. In fact, in September of 2017, Cardi B had hit the top spot on the Billboard Hot 100 list with "Bodak Yellow" making her the first female solo rapper to hold that spot in two decades. Nicki tweeted her congratulations to the up and coming rapper, to which Cardi replied "Thank you!! This means sooo much coming from you!!"