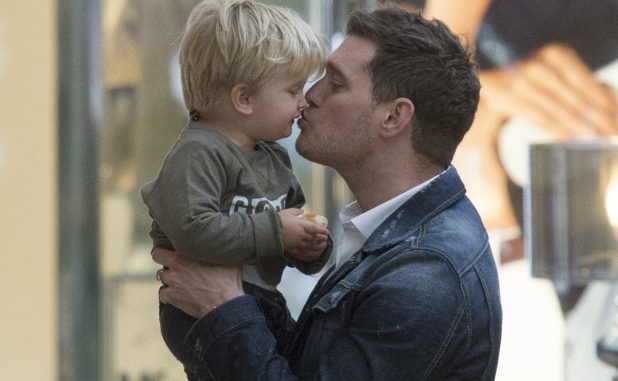 Katie Herbet, Staff Writer |
While stories are saying that an unmistakable voice of music will no longer be singing, there is more backstory as to why Michael Bublé had previously decided to put his music career on hold.
On October 3, Bublé and his wife opened up about their son's diagnosis of liver cancer. Noah, now 5, was diagnosed in 2016. Currently in remission, Bublé shares the emotional toll and heart wrenching journey he and his family have been on while Noah was undergoing treatment.
Bublé was notified about the diagnosis minutes before having to perform in London on BBC One. In a text from his wife, detailing the bad news, Bublé continued with the song, saying "I don't know how I even sang, man, I just did it on autopilot."
While he is not retiring from his career, Bublé did consider it at one point, explaining, "Going through this with Noah, I didn't question who I was, I just questioned everything else. Why are we here? Is this all there is? Because if this is all there is, there has to be something bigger. The diagnosis made me realize how stupid I'd been to worry about these unimportant things. I was embarrassed by my ego, that it had allowed this insecurity… And I decided I'd never read my name in print again, never read a review, and I never have. I decided I'd never use social media again, and I never have." Bublé went on to say that "putting my career on hold was an easy decision. I truly thought I would never go back [to music]. I was done. It just seemed completely unimportant compared to what was going on with Noah. Things got very clear for me, very quickly."
Noah, now in remission and having been able to beat his battle with cancer, is doing well and is in good health, reports say. Bublé, relieved and full of love, said, "One of the things about going through something that my family has been through is that it gives you great perspective and one of those points of [perspective] is that it really shows you to appreciate the good things. [Noah's] perfect. Clinically speaking, it was a tumor within the liver. And the most important thing was to get it out, with clean margins. Because if you do, it goes from being this scary thing to just being tremendous odds."
Bublé's newest album, "Love," is set to be released in November, despite the rumors of him leaving the music industry. Bublé told PageSix that "There are three reasons I wanted to do this album. One, because I felt a debt of gratitude, deeper than I can explain, to the millions of people all over the world who prayed for us and showed us compassion. That gave me faith in humanity. Two, because I love music and feel I can continue the legacy of my idols. And three, because if the world was ending – not just my own personal hell but watching the political turmoil in America and watching Europe break up – there's never a better time for music."
So don't fret! Bublé's family is happy and healthy. His beautiful talent is here to stay, and we have more music to blast in our car radios during the holiday season.