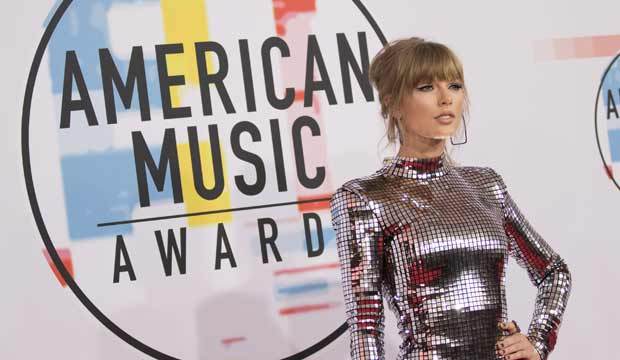 Tara O'Leary, Staff Writer |
The forty-sixth annual American Music Awards were held on October 9 and celebrated the biggest names in music. A variety of performances, many of which were TV debuts, filled the show with star power. Along with these performances there were countless awards and many celebrity appearances.
Taylor Swift opened the show with a fiery performance of her song "I Did Something Bad." It started off slow and dramatic, as Swift stood over a group of dancers puddled at her feet. From there it picked up pace, and the choreography kicked in. As the last chorus hit, a giant snake rose from the stage, displayed perfectly behind her, and she brought the crowd to their feet.
The opening performance was just the beginning of what would be a record breaking night for Swift. The pop superstar took home four awards including both Artist and Tour of the Year. She already had the record for most Artist of the Year wins, but on Tuesday she became the most awarded female artist in AMA history. Swift even teased the release of new music during her acceptance speech for Favorite Rock/Pop Album. After acknowledging the success of her latest album she added, "I'm even more excited about the next chapter."
Following the opening performance two time host Tracee Ellis Ross took the stage with a dance number that mashed up many of the year's popular hits. She was accompanied by a group of female dancers. Following her entrance Ross joked, "I'm not a dancer. I'm just a lady with some moves. I don't even know if I can say that, I'm just a lady who moves." She then went on to say that all of her outfits for the night were from African American designers.
Camila Cabello tied with Swift as the most awarded artist of the night, winning in four categories. Cabello's awards included New Artist of the Year and Favorite Pop/Rock Song for her hit "Havana." She also gave a TV debut performance of her newly revamped single "Consequences." The performance of the ballad was simple with a piano over on her side and silhouettes of an orchestra playing behind her.
Many other artists used the AMA stage to make TV debuts with their music. One came from Cardi B, J. Balvin, and Bad Bunny, who gave an exciting performance of their song "I Like It." Shawn Mendes and Zedd also debuted their collaborative effort on the remix of "Lost In Japan."  Later on Jennifer Lopez gave an empowering first performance of her song "Limitless." At the start of the song a quote projected on screen behind her read "Scream, so that one day a hundred years from now another sister will not have to dry her tears wondering where in history she lost her voice."
The show also included tribute performances to Queen and Aretha Franklin. With the movie "Bohemian Rhapsody" being released soon, Panic! At The Disco gave a tribute to the iconic band with a performance of that very song.
The show's closing performance was a collaborative effort to pay respects to Aretha Franklin. Tracee Ellis Ross introduced the tribute by calling Aretha the "queen of soul and the goddess of gospel." A video montage with highlights of her career played before Gladys Knight, Ledisi Donnie McClurkin, Cece Winans, and Mary Mary took the stage to perform a medley of songs focusing on Aretha's gospel roots.
A recurring theme throughout the night included various celebrities encouraging viewers to vote in the upcoming election. For a portion of the night Ross wore a t-shirt that said "I am a voter" across the chest. While presenting the award for Adult Contemporary Artist, Billy Eichner used his screen time to urge young people to vote, "Don't let anyone tell you your vote doesn't count."
Taylor Swift, who had previously encouraged fans to vote in the caption of an Instagram post, reiterated its importance during her acceptance speech for Artist of the Year. "This award and every single award given out tonight were voted on by the people," said Swift, "And you know what else is voted by the people is the midterm elections on November 6. Get out and vote."