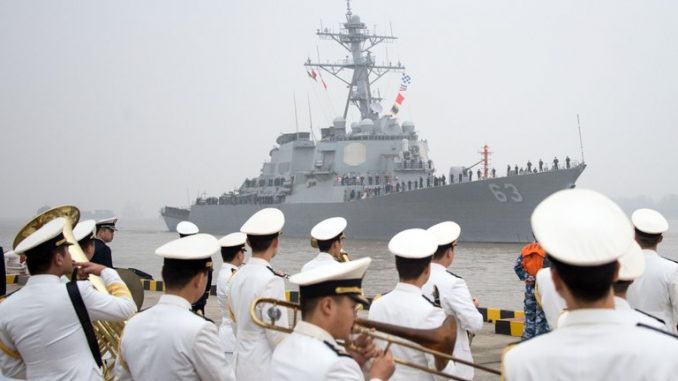 Tara O'Leary, Staff Writer|
Tensions have escalated between the United States and China after a United States Navy request to port in Hong Kong was denied. Prior to Beijing's refusal, an amphibious assault ship, the USS Wasp, was due to make a port call in October. The decision to refuse the ship impacts the many service members who have been at sea since August.
The denial for port came in response to the growing tensions between the two nations, who have been involved in a trade war. Very recently, the trade war has escalated with rising tariffs. The U.S. is set to increase tariffs on 250 billion dollars worth of Chinese imports from 10 percent to 25 percent by the end of the year. Trump's plan for the tariffs is to use them as a way to force China to change their unfair trade practices. He views them as "a grave threat to the long-term health and prosperity of the U.S. economy." So far the response from China has not been in favor of the U.S. Instead China is retaliating with their own tariffs of 60 billion dollars worth of United States goods.
Many anticipated this response from China; their Ministry of Commerce vowed to take "necessary countermeasures" if the United States were to go ahead with this plan. A top Chinese official has also said that China cannot talk with Washington about ending the trade dispute while the United States "holds a knife" to their neck with such high tariffs. China has since called off their planned trade talks with the United States.
Backlash has also come from companies here in the U.S. According to Axios, the companies threatened by these tariffs employ 11 million U.S. workers, many of which have voiced their concerns about the tariffs impacting their businesses. Target CEO, Brian Cornell, expressed his worries stating, "We're concerned about tariffs because they would increase prices on everyday products for American families." A rise in tariffs will impact sales for many corporations and could be devastating for small businesses.
Just a week prior to China's port refusal, the U.S. imposed sanctions on the country's Equipment Development Department. These sanctions came after China bought arms from Russia, including fighter jets and a surface-to-air missile system. In protest, the Chinese Foreign Ministry has summoned United States Ambassador Terry Branstad to postpone joint military talks with the U.S.. Wu Qian, a ministry spokesman, said that their decision to buy from Russia was "a normal act of cooperation between sovereign countries and the U.S. had no right to interfere." China has also recalled Vice Admiral Shen Jinlong from a visit with United States Chief of Naval Admiral John Richardson. The two were supposed to meet at the International Seapower Symposium, a gathering of military officials, at Naval War College in Rhode Island.

The relations between these two countries have been tense for quite some time, and this denial has only escalated it further. When asked about China's denial, a spokeswoman for the U.S. consulate said, "The Chinese government did not approve a request for a United States port visit to Hong Kong by the USS Wasp. We have a long track record of successful port visits to Hong Kong and we expect that to continue." When a similar question was asked in Beijing, Foreign Ministry spokesman Geng Shuang did not give a direct answer. Instead he simply told reporters, "For requests for U.S. military ships to visit Hong Kong, China has always carried out approvals case by case, in accordance with the principle of sovereignty and the detailed situation."
According to Deputy Commerce Minister Wang Shouwen, Beijing is open to negotiations but will leave the ball in Trump's court–saying whether they proceed is up to Washington.