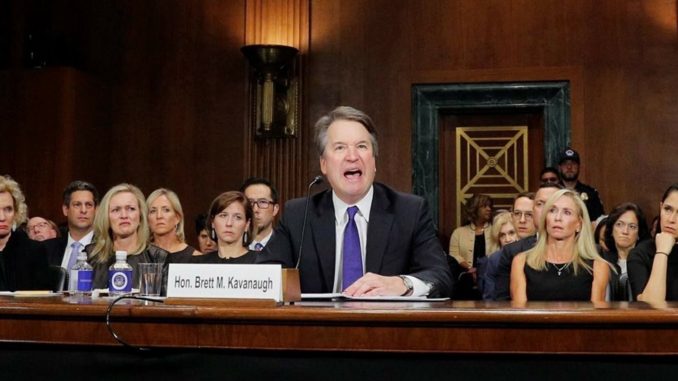 Katie Hebert, Staff Writer|
Content Warning: Sexual Assault in Current Events
If you are active on social media and pay any attention to the current news cycle, you've probably heard of Brett Kavanaugh. Recently nominated by Donald Trump as the replacement to retired Justice Anthony Kennedy on the United States Supreme Court, Kavanaugh seemed like a sure vote by the Republican Senate, but now he waits to be confirmed as allegations have been made asserting that Kavanaugh had perpetrated sexual crimes against a number of women.
Kavanaugh, born in Washington D.C., was coined the "Forrest Gump of Republican Politics" for being active in many large moments of political history, including his time in office during the Bush administration. He graduated from Yale University, earning his undergraduate and law degrees. During the nomination of Kavanaugh, President Trump stated that "There is no one in America more qualified for this position, and no one more deserving."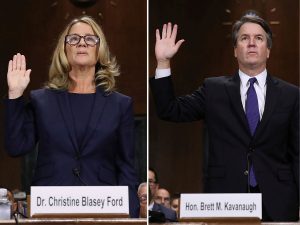 After his nomination, multiple women have come forward to share their stories, asserting that Kavanaugh had sexually assaulted them. Of these women, Dr. Christine Blasey Ford, has gotten the most coverage for her story and for testifying to the United States Senate. Dr. Ford shared that Kavanaugh forced himself onto her at a high school party in the early 1980s. "Vox" summarized Dr. Ford's testimony: "He was laughing. His friend Mark Judge was laughing. That's what she remembers most of all, she says — the laughter. At some point, they tumbled off the bed and she fled the room, locking herself in a bathroom until she heard them go back downstairs and their voices receded. Then she ran from the house, terrified she'd run into them on the way out and the attack would begin again." Another woman, Deborah Ramirez, who was a classmate of Kavanaugh's, shared how he was exposing his penis to her at a dorm-room party, thrusting it in her face, and causing her to touch it without her consent while she resisted.
Since the current visibility of sexual assault and harassment as a result of the #MeToo movement, this story is seen paralleled through many others. Outlets have also reminded us all that a very similar situation occurred with Anita Hill, who came forward sharing her experience, with yet another, Supreme Court pick, Clarence Thomas. However, members of the Senate at the time (of which was 98% male) "felt that Anita Hill's allegations were not taken seriously" and Thomas was sworn in regardless. Since the recent wave of people coming forward and sharing stories of their assault from perpetrators like Harvey Weinstein, people's reactions to the accusations against Kavanaugh have individuals fighting to make sure he doesn't get appointed.
Dr. Ford's testimony and heartbreaking recount of the traumatic acts that had been committed against her has resulted in personal backlash, which for survivors of sexual assault this sadly comes as no surprise. To those who are survivors of sexual assault, Ford explained that she is "here today not because I want to be," she said. "I am terrified. I am here because I believe it is my civic duty to tell you what happened to me with Brett."
While Dr. Ford's bravery and courage is evident, and she relives her trauma and risks her own reputation to prevent a rapist from holding one of the highest, most powerful, and distinguished positions in our United States Democracy, some people have also pointed out the privilege Dr. Ford has: "Through no fault of her own, she has also reinforced the incredibly high bar of believability," BuzzFeed's Anne Helen Petersen said. "Ford is white, upper-middle class, married, and highly educated. She is calm but demure. She is visibly shaken yet steady. She could afford the therapy that helped document her psychological past. She has a support system and the means to hire a lawyer. Imagine if you lack even one of these qualities. Imagine if your behavior, or your voice, or your face, or the life you've lived doesn't perfectly match what is demanded of the ideal victim. Would you be believed?" This concept raises awareness as to the concept of respectability politics for those affected by different forms of violence and those of marginalized identities. This story also reminds us of the mainstream trajectory of sexual and gender violence, which erases survivors who are people of color, queer, trans, non-binary, or male.
This double standard as to what makes a believable story is shown in Kavanaugh's reaction, who was seen screaming, crying, and angry at the story, denying any of it had ever happened. Kavanaugh responded in part by saying, "This is a smear, plain and simple. I look forward to testifying on Thursday about the truth, and defending my good name — and the reputation for character and integrity I have spent a lifetime building — against these last-minute allegations" and "'I will not be intimidated into withdrawing from this process… You'll never get me to quit. Never."
Twitter user @goldengateblond reminded us of this double standard by writing: "If Brett Kavanaugh were a woman, they'd be calling this performance 'hysterical." These survivors have received backlash about waiting so long to report the assault (although Ford did disclose that she did share her story with her husband and her therapist), which has caused people to take to social media to share their own stories of sexual assault with the hashtag "#WhyIDidntReport." Posts asserting that "Boys [have come] forward 36 years after being abused by Priests. No one asks why they waited so long," have been circulating on various social media outlets.
Instead of attacking the bravery of survivors who have to retell and relive the trauma of their assault, we should be working to prevent rapists and perpetrators from securing any position of power. How do we begin to do that? Simple— by believing survivors.
This topic has been very hot and heavily debated in the media. If you are a survivor of sexual assault or know someone who is: please take care of yourself. There is help.
Below are some resources you can utilize:
Counseling Center
The Counseling, Health & Wellness Center: (607) 436-3368
kNOw Violence
Office of Health Education #125 Counseling, Health & Wellness Center: (607) 436-3540
Oppurtunities for Otsego, Main Office: 3 West Broadway, Oneonta
Violence Intervention Program, 24-Hour Crisis Hotline: (607) 432-4855 Office number: (607) 433-8038
RAINN The Rape, Abuse, & Incest National Network: (800) 656-HOPE (4673)
67 Resources for Sexual Assault Survivors http://greatist.com/live/sexual-assault-survivor- resources