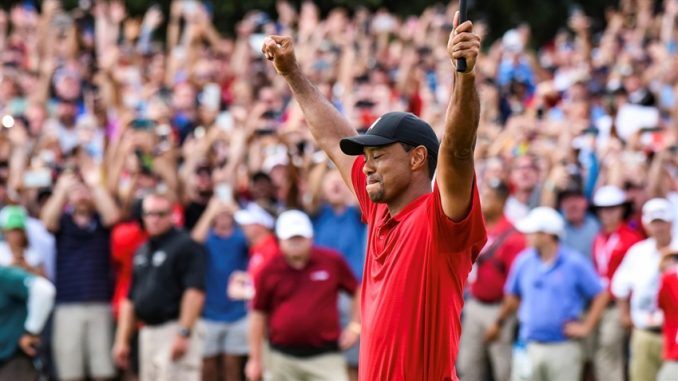 Casey McShea, Staff Writer |
Tiger Woods is officially back after achieving his first victory in five years at the 2018 Tour Championship. The 42-year-old golf legend finished the Atlanta tournament with a final round 71 and a two-stroke win over Billy Horschel. It was Woods' first win since the WGC-Bridgestone Invitational in 2013, and his 80th PGA win. After the win, Woods fought back tears as he reflected on his historic victory, "I just can't believe I pulled this off after the season I've gone through. It's been tough. It's not been easy the past couple of years. I've worked my way back and I couldn't have done it without the help of everyone around me."
A birdie at the first hole set the tone on Sunday for Woods, who increased his lead over playing partner Rory McIlroy and Justin Rose to four shots at the point.
McIlroy shot 39 on the front nine to fall out of contention and finished with a 74 and in a tie for seventh place. Rose also struggled, falling four shots back by the turn, finishing tied for fourth.
Woods is expected to rise to No. 13 in the world rankings after dropping as low as 1,199th late last year. It was his 18th start of 2018, and he has seven top-10 finishes. Woods also now trails all-time PGA Tour victory leader Sam Snead by two.
In a series of tweets congratulating Woods, Jack Nicklaus said, "I am extremely proud of him. Tiger has worked very hard to get to this place, and has played very well all season."
Woods played beautifully to give himself a three-shot 54-hole advantage, a lead he has never failed to convert now in 24 tries. He shot rounds of 65-68-65 to get to 12 under par, giving him his first three-round advantage since he won the 2013 WGC-Bridgestone Invitational.
Overnight ratings for the final round of the Tour Championship on Sunday showed that it was the most-watched final round of a non-major in 2018 and the most-watched round of the event since records have been kept. The broadcast drew a 5.21 overnight rating when Woods was on the course, despite being up against the NFL. There were more people watching than at any moment during the United States broadcasts of The Open or the U.S. Open this year.
Woods had previously been "out of golf" for the past two years, playing just three tournaments worldwide as he attempted to alleviate back and nerve pain that led to four surgeries. When he returned at the Farmers Insurance Open in January, he was ranked 656 in the world, and seemed miles away from being able to compete with the sport's best.
Woods, to his credit, slowly gained form, however, posting six top-10 finishes coming into the Tour Championship, including The Open and the PGA Championship.
Woods is now the favorite to win next year's Masters, according to the Westgate SuperBrook in Las Vegas. Heading into the Tour Championship, he was 12-1 behind then Masters favorite Jordan Spieth. By the end of the tournament, Woods' odds had been trimmed to 9-1, ahead of Spieth's at the Westgate SuperBrook in Las Vegas.