Tara O'Leary, Staff Writer|
Disney's upcoming "Wreck-It Ralph" sequel, "Ralph Breaks the Internet," did just that. The release of the movie trailer this summer nearly did break the internet, resulting in thousands of social media posts. A lot of the commotion revolved around a specific scene involving all the past Disney princesses reanimated, having a sleepover together. Some expressed excitement and commended Disney's attention to detail, while others noticed specific details that animators seemed to ignore. The details that were forgotten were distinct features for the princesses of color, specifically Princess Tiana, who is the only African-American Disney princess. In result, Disney found itself in a whitewashing scandal.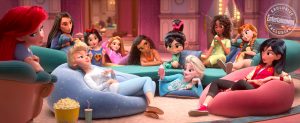 Princess Tiana made her first appearance in 2009 as the main character in "The Princess and the Frog." She was Disney's first African-American princess, voiced by Anika Noni Rose. Mark Henn, the animator of the 2009 film, based Tiana's look off of Rose and what she wanted to see. "The first things I said were round nose, full lips, and that she be left-handed," said Rose. "The Princess and the Frog" followed these guidelines when creating Princess Tiana, while "Wreck-It Ralph" did not.
In the trailer for the upcoming movie, Princess Tiana looks much different from when she made her first appearance. She was reanimated with Eurocentric features and a lighter skin tone, leaving people both shocked and upset. Many took to Twitter to criticize the animation failure. "Ya'll don't understand how important Princess Tiana is to black girls. We finally had a Disney princess that looked like us, and now, she doesn't," said one user. Another criticized Disney for their animation of both Tiana and Pocahontas, saying, "Tiana went from full black to half black real quick and Pocahontas went from Native American to a white person with a tan."
Twitter was not the only place where people expressed their frustrations. A racial justice organization, Color of Change, expressed frustration in the form of an online petition. The website criticized the animators for giving Tiana "a slimmer nose, loose curly hair and a significantly lighter skin tone." They also pointed out that this isn't the first time that Disney has faced whitewashing allegations. When casting for the live action version of Aladdin, Disney stated that they were "having a hard time finding people of color," and even admitted to "darkening the skin tones of white actors cast as extras." Color of Change insisted that Disney represent a variety of shapes, shades, and sizes of people, instead of setting the standard that only Eurocentric features are acceptable. The website defended Princess Tiana's importance stating that she "represents power and strength for the millions of black people who watch her."
The news of Tiana's reanimation reached Anika Noni Rose, who took to social media as well, voicing her thoughts on Instagram just last week. The actress wrote, "I've been very quiet on this subject because it was important for me to do my due diligence before publically addressing something as near and dear to my heart (and face) as Princess Tiana." Rose continued to say that she was just as surprised as the fans were, and she immediately put in a call to the studio in order to talk about visual changes.
The call resulted in an in-person meeting with Rose, original animator Mark Henn, and the "Wreck-It Ralph" team, where they were able to have a conversation about Princess Tiana's appearance. At this meeting the CGI animators were able to explain that the characters' color tones change in different light as opposed to hand drawn characters like in the original, and Rose was able to tell them how important it was to those who felt represented by Tiana to have her features restored.
After an open dialogue between both sides, it was announced that Disney is going to reanimate Tiana. Rose expressed the importance of having this kind of conversation and her gratitude in her Instagram post. "I also appreciate that this far into the process Disney had enough care and respect for all who love Princess Tiana and her legacy to spend the time and money to make the adjustments," she wrote, "In doing so, they recognize that her legacy is also their legacy; two things I'm very proud to be a part of." Rose thanked everyone for their continued support of her beloved Princess Tiana.
"Ralph Breaks the Internet" hits theaters November 21.