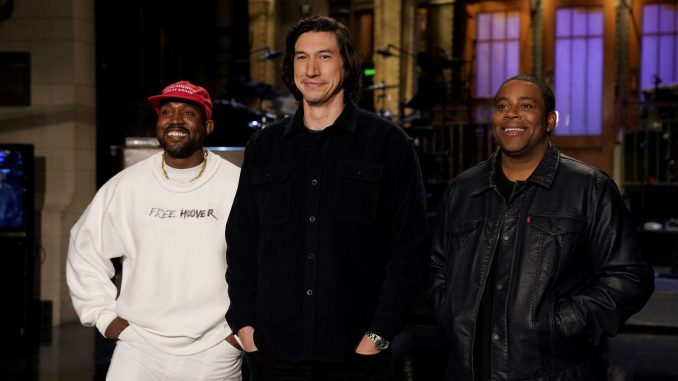 Casey McShea, Staff Writer|
Kanye West delivered an impromptu pro-Trump speech at the end of his appearance on the forty-fourth season premiere of "Saturday Night Live," receiving "boos" from the audience and causing some cast members to shake their heads in disapproval.
West, while wearing a red "Make America Great Again" hat, voiced his support for the President after performing his song, "Ghost Town" with Kid Cudi and 070 Shake. The moment was captured by comedian Chris Rock on Instagram. Rock can be heard in the background laughing and whispering "Oh my God."
"I wanna cry right now, black man in America, supposed to keep what you're feelin' inside right now," West said as a melody played below him. "The blacks want always Democrats… you know it's like the plan they did, to take the fathers out the home and put them on welfare… does anybody know about that? That's a Democratic plan."
"There's so many times I talk to a white person and [they] say, 'How could you like Trump? He's racist,'" West continued in a clip. "Well, if I was concerned about racism I would've moved out of America a long time ago."
He then pledged to run for president in 2020 and called for a "dialogue, not a diatribe" in order to have events change in the future. He ended the speech by thanking the show, "even though some of y'all don't agree."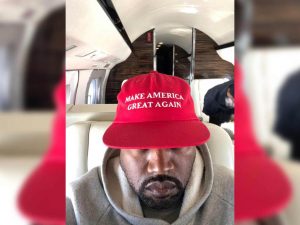 Many people responded to the speech on Twitter, including Trump himself: "Like many, I don't watch Saturday Night Live (even though I past hosted it)— no longer funny, no talent or charm. It is just a political ad for the Dems. Word is that Kanye West, who put on a "MAGA" hat after the show (despite being told 'no'), was great. He's leading the charge!" Following his SNL appearance, West tweeted a photo of himself wearing a "MAGA" hat again while aboard a private jet. The picture's caption stated, "This represents good and America becoming whole again. We will no longer outsource to other countries. We build factories here in America and create jobs. We will provide jobs for all who are free from prisons as we abolish the 13th amendment. Message sent with love."
Many were quick to criticize him; Singer Lana Del Rey condemned West's support for President Donald Trump as a "loss for the culture" in response to the rapper's "MAGA-touting" missive on social media.
"Trump becoming our president was a loss for the country but your support of him is a loss for the culture," Del Rey wrote. "I can only assume you relate to his personality on some level. Delusions of grandeur, extreme issues with narcissism. If you believe it's alright to support someone who believes it's OK to grab a woman by the pu**y just because he's famous—then you need an intervention as much as he does."
Actor Chris Evans also commented, quoting West's tweet and saying, "There's nothing more maddening than debating someone who doesn't know history, doesn't read books, and frames their myopia as virtue. The level of unapologetic conjecture I've encountered lately isn't just frustrating, it's retrogressive, unprecedented, and absolutely terrifying."
Kim Kardashian West, West's wife, has yet to comment on her husband's speech, although she was spotted watching his performances with their daughter, North, 5, and seemed unbothered.