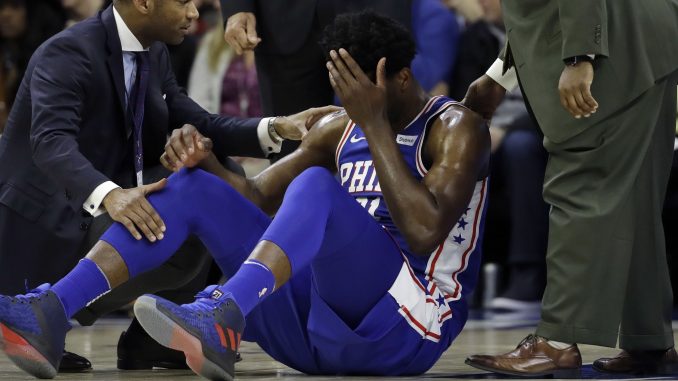 Wyatt Cushman, Staff Writer |
This season has been one to remember for the Philadelphia 76ers. The Sixers currently sit in fourth place in the Eastern Conference with a record of 46-30. They lead the fifth place Pacers by a half game, but trail the third place Cavaliers by that same margin. The Sixers are still waiting to see who they will face in the first round of the playoffs, which start on April 14.
Now you're probably wondering why this season has been deemed such a success when there's a possibility Philly will not have home court advantage in the first round of the playoffs. This will happen if they finish fifth or worse in their conference. This season though has been far more successful than any in the recent past. The franchise hasn't won more than 40 games since its 2010-2011 season, nor have they made it to the playoffs since 2011-2012. The lack of success recently has their fans and their city excited for some playoff basketball this time around.
The reason for all this success could be the influx of young talent the 76ers have on their roster, and they haven't even had their most recent top pick, Markelle Fultz, for much of the season. Fultz was selected first overall by the 76ers in the 2017 NBA Draft, but he has yet to contribute much to his team because of a shoulder injury. Early on this season, Fultz was shut down because his shooting motion made people cringe due to a shoulder injury. He looked as if he was in pain and it was clear he needed some time to rehab.
Without Fultz, Joel Embiid, Ben Simmons, and JJ Reddick have been some of the main contributors to the 76ers, and have gotten them to where they are now. Fultz recently made his long-anticipated return after a five-month absence, and looks as though his shoulder is no longer an issue. In his first game back, Fultz tallied 10 points and eight assists; the rookie is making head-turning plays and showing flashes of his potential as a number one pick, a welcome sign for everyone.
There has been one play, though, that has people in Philly concerned. On March 27, during a game against the New York Knicks, Fultz collided with Sixers All-Star Joel Embiid causing Embiid to fracture an orbital bone in his eye. The seven-foot center is expected to miss two to four weeks after having surgery to repair the fracture. This could cause him to miss the start of the playoffs, a huge blow to the Sixers, but there is still time to recover. Many fans believe that Embiid will be ready to go by then.
Fultz hasn't made all the right plays since returning from his own injury, but so far, he has looked like a solid NBA player. He, Simmons, and Embiid are all young and talented players who hope to make winning a common thing in Philadelphia. The Eagles and Villanova Wildcats have recently brought championships to the city all these teams call home. While the Sixers are not the favorite to bring home the hardware this season, they look to be serious contenders soon.