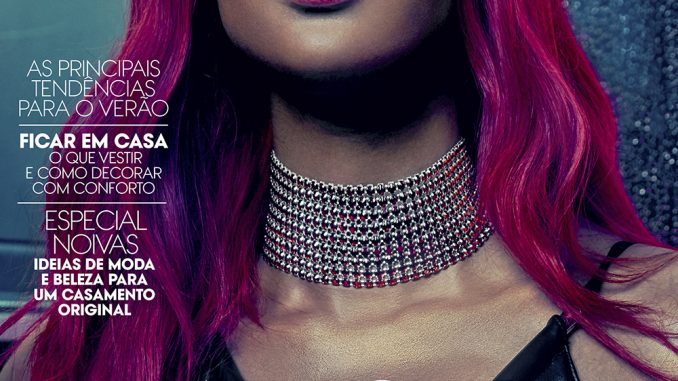 Hanna Da'Mes, Staff Writer|
Recently, there has been an increased emphasis on the representation of culture through fashion. Many designers are being recognized for their unique contributions to the fashion world, and that is due mainly to the importance being placed on cultural pride and appreciation. In conjunction with showcasing cultural pride, fashion is being used to break down ethnic-related stigmas and promote social awareness about issues regarding race, culture, and ethnicity. British model, Naomi Campbell, 47, is spearheading the argument that there should be a "Vogue Africa."
Naomi Campbell first appeared on the fashion scene at 15-years-old. She is largely remembered as the first black model to be featured on the covers of "TIME," "French Vogue," "Russian Vogue," and "British Vogue." Naomi has also made appearences in several forms of media, including TV shows, movies, and music videos. She has appeared on "The Fresh Prince of Bel-Air," Bob Marley's music video, "This is the Love," and Michael Jackson's video, "In the Closet," just to name a few.
Aside from her modeling career, Campbell has contributed greatly to philanthropic efforts. Her charity career began in 1993 when she worked closely with Nelson Mandela in South Africa. He even named her his "honorary granddaughter" in 1997 due to her relentless activism and dedication to social reform. In 2005 she founded the organization Fashion for Relief, which used the revenue from various fashion events, dinners, and auctions to fund aid. These effforts provided relief to causes such as the Ebola crisis in West Africa; the destruction caused by Hurricane Katrina; and the various earthquakes in Haiti and Japan, and other charity organizations.
Campbell expressed her incredulity that there is not yet a larger scale of African fashion globally recognized. "Africa has never had the opportunity to be out there and their fabrics and their materials and their designs be accepted on the global platform. It shouldn't be that way," Campbell said in an interview with Reuters. Her hope is that, just as the Middle East was able to achieve a "Vogue Arabia," Africa will be able to reach a certain level of respectability in high fashion.
"There should be a "Vogue Africa." We just had "Vogue Arabia," it is the next progression. It has to be." Campbell explained that she wants the African diaspora to have a bigger representation in the world, to give African culture the appreciation and normalization it deserves.
While fashion magazines in America are still largely white, magazines in other countries have increased their diversity immensely. The year 2017 has been marked as one of the most diverse years for fashion magazines, especially for "Vogue Arabia," Taiwan, and India. Campbell believes that the next logical step in the diversification of high fashion is to establish a "Vogue Africa." She has consistently used her platform for social reform and charitable causes. Naomi Campbell clearly cares about her cultural roots and knows the importance of equal representation. The fashion world is slowly beginning to accept diversity. Diversity should be appreciated worldwide, as opposed to just in that culture's specific country.