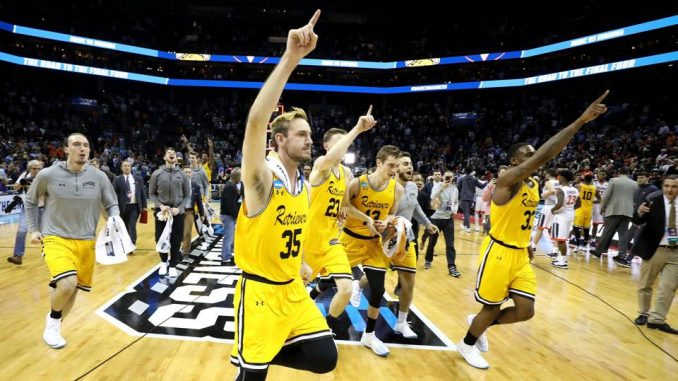 Wyatt Cushman, Staff Writer |
March is the best time of year to be a sports fan. The NCAA Tournament is like having Christmas morning three weekends in a row. There are multiple games Thursday through Sunday, and the level of play just keeps getting better and better in the later rounds of the tournament. Watching the best college basketball teams in the country be tested and sometimes lose to mid-major schools can make you question why there are rankings and seedings in the first place. It seems like we say this every year, but this year's tournament has shown us things we rarely see, and even gave us the biggest upset in tournament history.
There are clear-cut favorites to win the tournament every year. You have teams that you can see being upset in the first round and then teams that you are 100 percent certain will survive and advance, or at least who you thought were certain to. This year, Virginia was one of those teams you were sure wouldn't be upset. They had dominated the best conference in the country, the Atlantic Coast Conference (ACC), all season long, they were the number one overall seed, and they were playing a team that many people probably didn't know existed until this weekend. The impossible happened, though, leaving everyone in a state of disbelief.
Last Friday night, the Retrievers from University of Maryland, Baltimore County (UMBC) shocked the world and became the first 16-seed to ever defeat a 1-seed. They exposed the best defense in the country and won by a final score of 74-54. Virginia didn't even show up in this game. They were embarrassed and vastly outplayed in front of the whole country by a team that lost to their America East opponent UAlbany 83-39 just two months earlier. This truly was the greatest upset in tournament history and the only thing that could have made it any better was if UMBC had won on a last second buzzer beater instead of absolutely destroying Virginia. UMBC's magical run was fun, but it lasted just one game as they lost in the second round to Kansas State 50-43. They may not still be dancing, but they did what 135 of their 16-seed brethren before them couldn't do, and for that they will always be remembered.
UMBC did the unthinkable, but many other teams also had a part in ruining millions of brackets around the country. In their first-round game, down by one with just seconds remaining, 11-seed Loyola of Chicago managed to get off a three-point shot at the buzzer to propel them into the next round. Two days later they recreated the magic, hitting a shot again in the final seconds to give them the one-point win and a spot in the sweet sixteen. Another team who did what many thought was impossible was Buffalo. They played Arizona in the opening round, a team that was a popular pick to make a deep run in the tournament. However, the Bulls were ready from the opening tip and much like UMBC, dominated their heavily favored opponent. The magic would run out in the round of 32, but Buffalo had its moment, which is something everyone on that team will never forget.
Some lower seeded teams still left dancing along with Loyola are 11-seed Syracuse, who was the very last team to receive an at-large bid in this year's tournament, 9-seeds Kansas State and Florida State, and 7-seeds Nevada and Texas A&M. It's incredible to see this many low seeds remaining at this point in the tournament. This is the first time since 1979 that a region has had its top four seeds eliminated before the sweet 16. Virginia, Cincinnati, Tennessee, and Arizona all fell victim to the underdog. Nobody saw this coming, but that's the beauty of this tournament; anything can happen and we'll continue to see things we've never seen before for years to come.