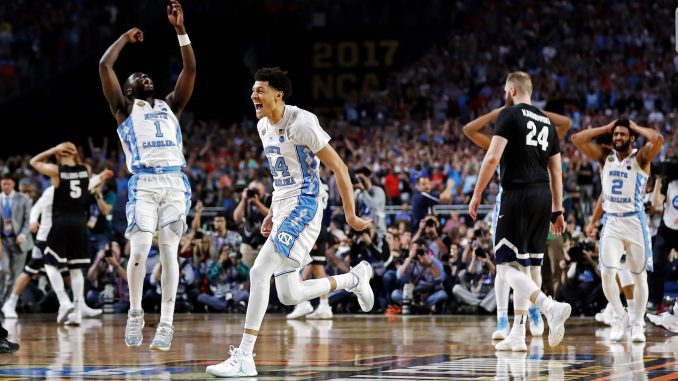 Wyatt Cushman, Staff Writer |
After their crushing loss in last year's National Championship game to Villanova, North Carolina would not be denied this season. On Monday, the Tar Heels defeated Gonzaga by a score of 71-65 to win its sixth championship in school history. With the win, they join UCLA and Kentucky as the only schools to have at least six championships in men's basketball, and Roy Williams passed legendary North Carolina coach Dean Smith with his third Championship.
The big stage of the National Championship was nothing new to North Carolina and its players, as this was the program's second straight Final Four appearance and their 20th overall, the most of any school. Their opponent though, the Gonzaga Bulldogs, were new to the big stage. This was Gonzaga's first appearance in the Final Four and first appearance in the title game, but like they had done all season long the Zags came to play against the mighty Tar Heels. They controlled the first half on Monday night, leading by as much as seven points and taking a three-point lead into the locker-room at halftime. Gonzaga's size had been able to take away Carolina's biggest strength, rebounding, and its guard play had been able to control the tempo in the first half. With only a three-point deficit at intermission, UNC knew that they were still very much in the game, and they came out like a team that would not walk away empty handed again this year.
Carolina opened with an 8-0 run to take a five-point lead early in the second half. Much like the first, the second half was ugly and did not have much flow. Foul trouble plagued the big men for both teams, and neither team was hitting three point shots at their normal pace.  They went back and forth exchanging leads numerous times, but in the end North Carolina proved to be the better team. The Tar Heels shot a lousy 36% from the field, and only one player was able to hit a three-pointer for them all game but it was still enough to propel them to victory. Joel Berry scored 22 points including 4 three-pointers and was named Most Outstanding Player. He and the rest of his teammates may never forget the nightmare they experienced a season ago but this group of young men, many of whom were on last year's team, finally got their one shining moment on the big stage in Phoenix.