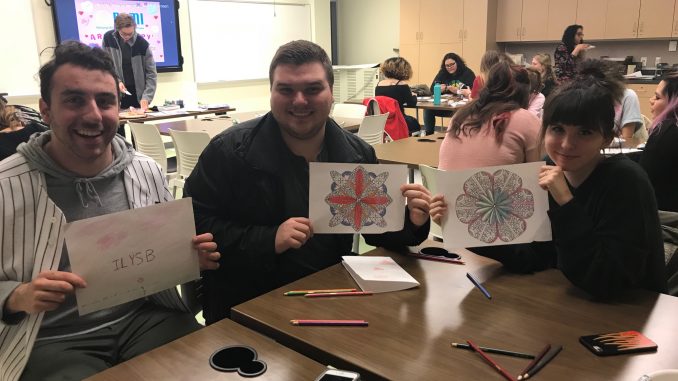 Hannah Da'Mes, Staff Writer | 
This Valentine's Day, the National Alliance on Mental Illness (NAMI) presented a relaxing art therapy session in Fitzelle Hall, room 306. It was obvious that students both enjoyed and needed the creative release provided by the event: it was scheduled to go from 7:45 to 8:45 p.m., but ended up lasting until after 9:00.
Alina Amin, Secretary of NAMI, describes the purpose of the organization as a "safe space to share experiences." She explained how people often feel like they do not deserve to talk about their mental health. Many worry the subject is thought of as taboo. Often, young people do not open up about their mental health issues out of fear that it will burden others. But the awareness of self care practices and the resources available for helping students are making all the difference.
"For people our age, mental health is becoming a huge priority," Amin explained, "because it is getting in the way of our school work, our success." Alina also notes that people our age are prone to anxiety. The American Psychological Association (APA) states that 12 percent of the millennial generation is officially diagnosed with an anxiety disorder of some kind, which is almost double that of the baby boomer generation.
Members of NAMI provided a calm, laid-back, and creative environment for students after a long half-week of classes. Relaxing music played softly in the background, an assortment of Valentine's Day cookies were left out on a table, and people gathered together in hopes of a break from their rigorous schedules. On each table was a small bag or two of stones, a bowl of water, and some paint brushes. There was a table with paint and paper plates at the front of the room, and students gathered around to pick out colors.
The room fell into peaceful, worry-free chatter while everyone painted their rocks. The paintings involved reassuring and inspirational phrases, quotes, and words. Since it was Valentine's Day, there were themes of love present in the art, contributing to the amiable atmosphere. There was also a variety of adult coloring books to choose from, including mandalas, Harry Potter depictions, and pictures of nature.
Art is a more than viable form of therapeutic experience. According to Art Therapy Alliance, art therapy can help develop healthy coping skills, produce an emotional release, provide an environment for self-expression, and many other benefits.
The night was a wonderful way to de-stress as students' workloads begin to pick up. The National Alliance on Mental Health also hosts movie nights, discussions, events for suicide prevention month, and other events in order to spread awareness about mental health as well as to provide students with resources and a safe space. Public Relations Officer Kerri Pangburn emphasized the organization's goal of "destigmatizing mental illness," in hopes that people will eventually feel less hesitant to talk about mental health and ask for help.