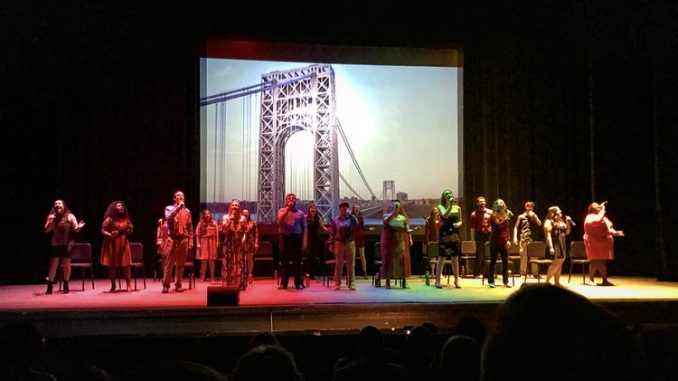 Hanna Da'Mes, Staff Writer|
Last weekend, the Apollo Music Club produced a concert version of Lin-Manuel Miranda's "In the Heights," directed by senior Jennifer LoPresti, Theatre and Music Industry major. The show was a hit, and from the very first musical number, the whole audience was dancing in their seats.
Although a concert style show usually means minimal lighting, a lack of blocking and sound effects, and only utilizing the songs from the show, LoPresti decided to use all these elements in her production. The show included the entire dialogue between songs, which gave the audience the effect of a full production.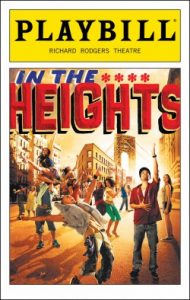 LoPresti incorporated blocking and even some choreography which brought the show to life. A big dance number occurred during the song "In the Club," which featured salsa dancing from all of the performers on stage. The energy was contagious, and there wasn't a performer on stage that wasn't fully engaged in the show.
The performers kept up beautifully with the upbeat tempo of the songs, as well as the vocal and rapping techniques. The audience appreciated and contributed to the energy of the performance; at every impressive belt in a song, they didn't hold back the whoops of admiration, and if given the chance, many would have gotten up on stage to dance along with the actors.
Act One closed with "Blackout," an exciting, suspenseful song about the power outage in the community. During this song, the lights went down on stage and the actors used their cellphones to act as flashlights.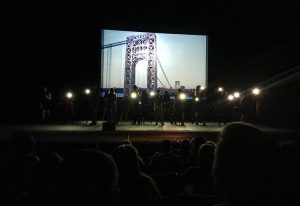 The contrast of searing beams of light in the darkness was a powerful image, illuminating the struggles of those lost and afraid in the power outage. Act One was filled with popping, Latino-influenced sounds, and Act Two of the show opened with a contrasting bittersweet, slow duet, "Sunrise," setting the tone for a heavier emotional nature.
When the revered matriarch Abuela Claudia died after "Carnaval del Barrio," the mood instantly turned somber, and the versatility of the performers was apparent. Spirits were lifted by a beloved comedic character, Piragua Guy or, in this performance, Piragua "Girl."
A highlight from the show on February 2 was when the actor playing Vanessa kissed the actor playing Usnavy, and the audience erupted into cheers. One audience member shouted, "yes!" while another said, "finally!" resulting in laughter.
As the performers gave their final bows, the audience exploded in applause and even gave a standing ovation. The production was a thoroughly enjoyable experience, as are all the other performances that the Music and Theatre departments present.
If you weren't able to see "In the Heights" live, there is a video of the performance that can be accessed at: ftp://cmsmediaftp.oneonta.edu/