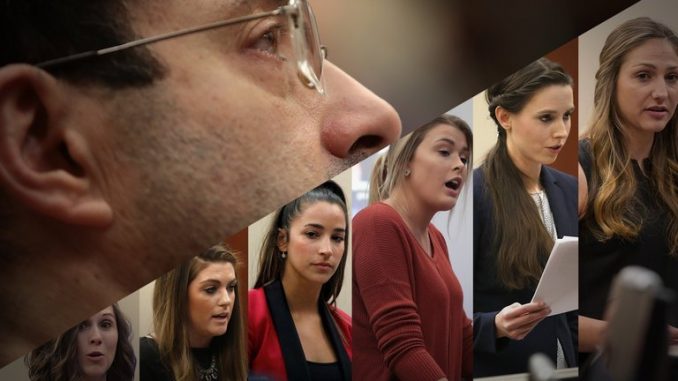 Chrystal Savage, Staff Writer |
The story of exposing one of the most criminally protected, experienced, and equipped sexual predators began on August 29, 2016. Rachael Denhollander, former American gymnast, 33, came forward as the first person to publicly accuse former Assistant Professor in Sports Medicine at Michigan State University and National Medical Coordinator for the US women's gymnastics team, Larry Nassar, 54, on grounds of sexual assaults that took place during treatments when the victim sustained a back injury. Denhollander was only 15 back in 2000 when the assaults began.
According to Denhollander, "Larry is a hardened and determined sexual predator… Larry sexually assaulted me repeatedly under the guise of medical treatment for nearly a year. He did this with my own mother in the room, carefully and perfectly obstructing her view so she would not know what he was doing. His ability to gain my trust and the trust of my parents, his grooming and carefully calculated brazen sexual assault was the result of deliberate, premeditated, intentional and methodological patterns of abuse – patterns that were rehearsed long before I walked through Larry's exam room door and which continue to be perpetrated I believe on a daily basis for 16 more years, until I filed the police report." Denhollander's testimony continued on for nearly an hour.
More than 150 women and family members preceded Denhollander, including parents whose daughters had taken their lives over the turmoil of the events. Denhollander then concluded the testimonies as the story was to "…begin with Rachael… and end with her."
These victims not only spoke out informally against the abuse suffered at the hands of Nassar, but also continued to testify in open court. Olympic athletes and alumni to be noted among the accusers include Aly Raisman, six time Olympic medalist, 23, who testified in court, along with Simone Biles, six time Olympic medalist, 20, and Gabby Douglas, three time Olympic medalist, 22, who rallied together on various social media platforms to draw attention to the conversation in the most public sense.
Nassar pleaded guilty to his crimes in November of 2017 and was forced to do so again, immediately before a judgement was given. Judge Rosemarie Aquilina, who presided over the hearing, gave Larry Nassar a sentence of up to 175 years behind bars, saying in part, "I've just signed your death warrant… Our Constitution does not allow for cruel and unusual punishment. If it did… I would allow someone or many people to do to him what he did to others."
Undoubtedly, a lengthy investigative process is set to take place as to why Michigan State University and the women's United States Gymnastics Association ignored accusations presented to them as early as the mid 1990s. The destination of victim healing is far from reached, but for now the victims who have come forward can, "Leave [their] pain here [the past, courtroom] and go out and do [their] magnificent things." (Judge Rosemarie Aquilina, upon sentencing Nassar and dismissing the court).
If you, or someone you know is a victim of sexual abuse, confidential help is available.
Call 1-800-656-4673 or Text VOICE to 741-741