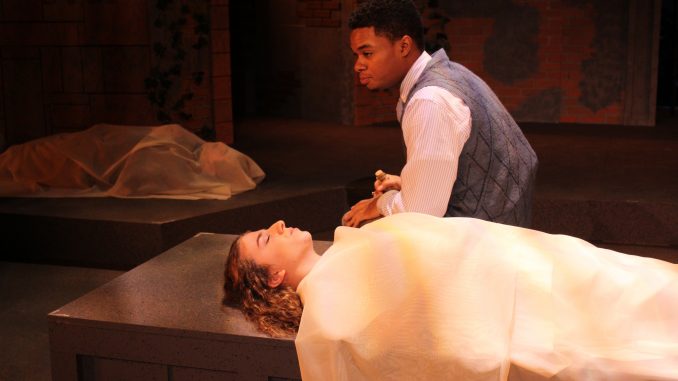 Alexandria LaFlair | Staff Writer
The world famous Romeo and Juliet by William Shakespeare was performed by SUNY Oneonta students in the Goodrich Theater from November 2, opening night, to the closing matinee on November 5.
Walking into the theater, the massive structure on the stage immediately drew attention. It was a gigantic castle, nearly twenty-two feet in its entirety, complete with realistic looking bricks, vines, and the all-important balconies. The front of the stage actually covered the first few rows of seats, leaving plenty of room for all of the actors and the major fight scenes to take place.
We all know the general story, but for many of us it was a quick lesson in high school English. Surely, this led to some confusion throughout the play. Some of the lines seemed rushed and hard to understand, but mastering Shakespeare's language, tone, and pronunciation of Elizabethan English can take years.
Judging by audience responses, the characters of Mercutio, Friar Lawrence, and the Nurse were particularly favored. All three are extremely important in regards to both the narrative of the play and Romeo and Juliet's lives, yet they each had their own sense of humor, which is needed in such a serious story. The director and actors' decisions to emphasize these characters' humor was a fantastic move, from a mostly young audience's perspective. The show ran two and half hours, so the comic relief was necessary.
Director Andrew Kahl of the SUNY Oneonta Theatre Department had a great deal to say in his Director's Notes. This is the place where we can discover why a play was created, directed, and portrayed the way it was.
In his conclusion he states, "Let the sound, rhythm and poetry do their work and in the process you may dis cover that you and Shakespeare are using the same language, after all." The movements, facial expressions, and tone of Shakespeare's words can make all the difference in watching such a confusing performance.
Overall, the production was wonderful. The cast of over thirty, plus the backstage crew and designers, must have put so much into the show, physically and emotionally. One of the highlights was Juliet's bed, which would rise and sink back down into the stage, making the use of props minimal. The fight scenes were choreographed by an actual fight choreographer, making them as authentic as possible and very enjoyable to watch.
Next semester brings three productions to Oneonta's stages: Barefoot in the Park (premiering in February), Doubt (premiering in March), and Honk! (premiering in April). Honk! will be holding auditions on November 15 and 16 in the Goodrich Theater for anyone interested. Signs ups are at the Call Board by the Theatre Office in Fine Arts.