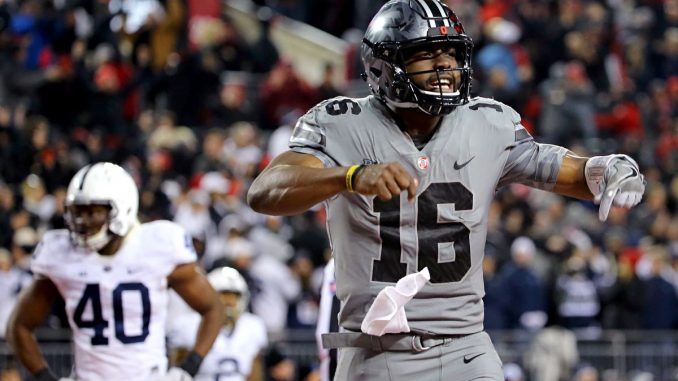 Wyatt Cushman, Staff Writer |
College football was full of great games to watch this weekend, but none were bigger than the battle in Columbus between Penn State and Ohio State. Last season, these two teams gave us one of the best games of the season, in which Penn State shockingly upset the Buckeyes, propelling them into the national championship picture. This season, both teams have dominated opponents as each is ranked among the Top 10 in the nation and had combined for just one loss before their matchup. Everyone knew this game would be crucial in determining who might be invited to play in this year's College Football Playoff, and there was no question that both teams were fired up.
Coming into this game, the big question was if Penn State star running back Saquon Barkley could continue his Heisman-like season while facing a solid Ohio State defense. Barkley has averaged over 200 all-purpose yards per game this season and has had his way with every opponent. The good news for Ohio State was that they were coming off a bye week, and their head coach Urban Meyer is undefeated in games after his team had an extra week to prepare.
This game kicked off with a bang, and if you were even a minute late to turn on your TV then you would have missed Penn State jump out to an early 14-0 lead. They returned the opening kickoff for a touchdown and then capitalized on a short field after its defense forced an Ohio State turnover. The Buckeyes kept fighting after the rough start, as any good team would do, and only trailed 28-17 going into halftime.
The second half of this game was much like the first half, with Ohio State trying to play catchup while Penn State was comfortably out front. But that all changed in the fourth quarter. The buckeyes trailed 35-20 with about 12 minutes remaining, and then staged what might be the greatest comeback this season, led by quarterback J.T. Barrett. Barrett had received criticism all week for his poor play in big games. This big game was a different story though, and the fourth quarter was the best quarter Barrett has ever played as a member of the Buckeyes.
For a QB, 170 yards and three touchdowns is a good stat-line for an entire game, but J.T. Barrett accomplished this and a perfect 13/13 passing in the fourth quarter alone. This perfect display of passing along with a few key stops by the defense allowed Ohio State to win this wild one by a score of 39-38. This game had everything from kickoff returns to blocked punts, and it sure did live up to the hype. Nobody could've predicted what happened, but the result was a great football game.
Going forward Ohio State is in the driver's seat to make the BIG Ten Championship game and ultimately the College Football Playoff. Penn State now will have to hope for an Ohio State loss, and will have to win out if they are going to have a chance at making the Playoff and keeping their National Championship hopes alive. We've seen things get crazy at the end of the season in College Football so there's still a lot to be determined, and there's no doubt this game will be impactful down the line.