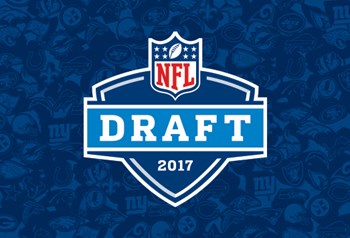 Nick Wetzel, Sports Editor | 
The 2017 NFL Draft will start Thursday, April 27, and analysts everywhere are putting together mock drafts and scenarios for every team and player. Lucky for you, I have scoured the deep web and put together the second annual "Nick Wetzel Small Board." Just like last year, for the sake of time, I won't make predictions on the entire first round, but instead just the top ten. Also, trades are difficult to predict so I'll be making my picks based on how the draft would look if no trades take place. Let's get started:
1st overall to the Cleveland Browns-Myles Garrett, DE, Texas A&M. There has been a lot of talk about how the Browns aren't sure who they'll take with the first overall pick. Don't over think it Cleveland, Garrett is clearly the right pick instead of Mitchell Trubisky. Trubisky isn't Jameis Winston, Marcus Mariota, Andrew Luck, Peyton Manning, or even Robert Griffin III. Go with the 6'4", 272-pound physical beast who terrorizes QBs on a regular basis.
2nd overall to the San Francisco 49ers-Solomon Thomas, DE, Stanford. The 49ers could also look at some of the QBs available in the draft, but it seems like they would rather wait until 2018 and see if they can convince Kirk Cousins to team up with his former offensive coordinator, Kyle Shanahan. They have gone the DE route in past drafts, but Thomas is a better player and in today's NFL, you can't have enough pass-rushers.
3rd overall to the Chicago Bears-Jonathan Allen, DL, Alabama. The Bears were also thought to maybe look at a QB here, but the signing of Mike Glennon makes it look like they'll go elsewhere. There are a few guys they might draft here, but Allen seems like the right choice as he would give the Bears a pass-rusher that they desperately need playing in the NFC North against Aaron Rodgers, Matthew Stafford, and the combination of Sam Bradford and Teddy Bridgewater.
4th overall to the Jacksonville Jaguars-Leonard Fournette, RB, LSU. After spending big money on the defensive side of the ball, the Jags should look at Fournette here. They haven't really had a big-time threat at the running back position since prime Maurice Jones-Drew, and Fournette would be a huge help to Blake Bortles.
5th overall to the Tennessee Titans-Marshon Lattimore, CB, Ohio State. The Titans could look at receivers Mike Williams or Corey Davis here, but corner is a need for this team and they would be getting the best in the draft if they take Lattimore.
6th overall to the New York Jets- Jamal Adams, S, LSU. I've seen a different player in this spot with literally every mock draft that has been published, which is a testament to just how bad the Jets are. If they can grab Adams here, it would be a huge win as they would get one of the best players in the draft.
7th overall to the Los Angeles Chargers-Malik Hooker, S, Ohio State. The Chargers probably would have preferred Adams, but Hooker is by no means a consolation prize. He is a different player than Adams, but he is still a very dynamic player in the secondary and would immediately help the Chargers.
8th overall to the Carolina Panthers-Derek Barnett, DE, Tennessee. The Panthers need to get young pass-rushers and they could definitely do worse than Barnett. Barnett's impressive numbers during his time at Tennessee (29 sacks, 42 tackles for loss) proves he can stack up with any of the other pass-rushers in this class.
9th overall to the Cincinnati Bengals-Mike Williams, WR, Clemson. The Bengals might elect to go with Corey Davis instead of Williams, but I chose Williams because of Davis' injury. Either player paired with AJ Green would make one of the best receiver duos in the league.
10th overall to the Buffalo Bills-Reuben Foster, LB, Alabama. Foster may have been asked to leave the combine, but he is still one of the top players in the draft. He has elite speed at the position and is an incredible tackler.
There you have it. The top 10 picks of the NFL Draft. Probably not though, since I'm sure there will be at least three trades in the top 15 picks effectively destroying my "Small Board." It'll be okay though, as long as the Jets don't draft a QB.