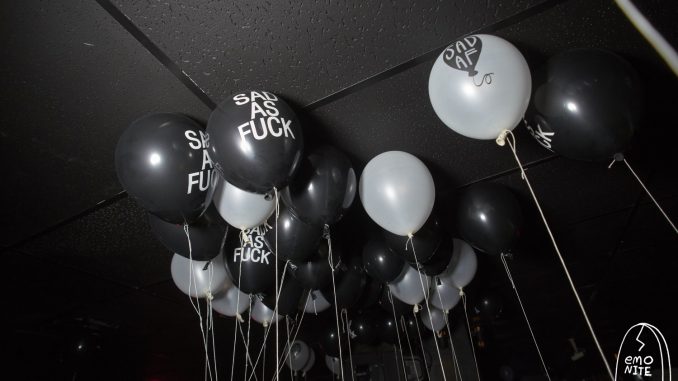 David Anderson, Staff Writer |
The kids have grown up and well, they're still sad. They're sad everywhere in fact, and to such an extent that Emo Nite events have been drawing huge crowds in several cities across the country.
Emo Nite was most notably started in Los Angeles on December 1, 2014. Initially known as Taking Back Tuesday, it started as a simple idea for a small dive bar party presented by Barbara Szabo, T.J. Petracca, and Morgan Freed. What was supposed to be an isolated event managed to draw 500 people, Petracca relayed to Rolling Stone back in 2015. The trio kept booking the event and it continued to grow, eventually attracting the DJing talents of Blink-182's Mark Hoppus by the third event.
Now, Emo Nite events offer an evening of nostalgia for the new generation of workplace professionals. This rising generation once celebrated emo and pop punk as middle schoolers in 2006, and now as they start to get office jobs, Emo Nite offers them a chance to experience a few more nights of pre-pubescence. Jia Tolentino, a contributing writer for the New Yorker recalled in her article on L.A.'s Emo Nite last January that one of the artists even prompted the crowd, "If you're over thirty in the crowd, say YEAH!" and many responded.
While Emo Nite events can attract big names such as the aforementioned Mark Hoppus and Mikey Way, former bassist of My Chemical Romance, to attend as both performers and fans, they generally do not play their own material. The guest appearances are largely DJ-driven and these old pop-punkers generally just crossfade a few Spotify playlists together, which more or less does it for the crowd. Mark Hoppus even relayed to Rolling Stone that "I have no idea how to DJ," but "as it turns out, people there didn't care at all about the crossfades or cool DJ moves. All they cared about was listening to the music."
Now, disenfranchised millennials can find incarnations of this event in major cities ranging from New York City, to Albany, to even Seattle. These events offer a place where aging members of the pop-punk generation can go to celebrate their persisting sadness. Szabo, Petracca, and Freed fill their own events with grey balloons proclaiming "SAD AF" and the event logo is a frowny face on a tombstone. Patrons who attend any of these events, especially in a major city, can expect to experience the DJing talents of an old member from the scene coupled with a live performance from some of the artists that are still gigging on a regular basis.
These events are powered by the nostalgia of the first wave of millennials who are just entering the workforce and there are many many more to come. If the persistence of Woodstock revival shows and Grateful Dead reunions tours tell us anything, it's that nostalgia is a wellspring of concert potential.