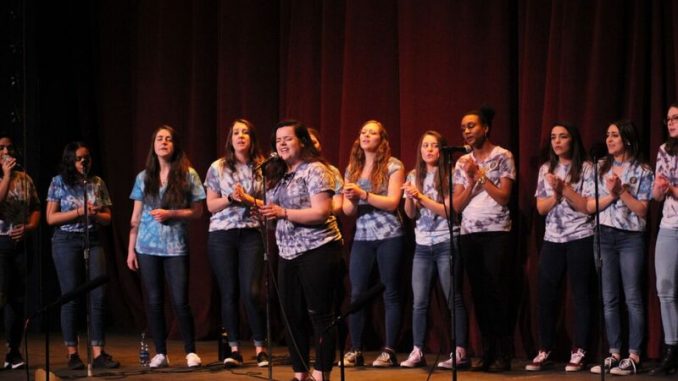 Paige Welch, Staff Writer |
On Saturday, April 8, Pitch Slapped put on a benefit concert featuring the talents of Hooked on Tonics and Voices of Serenity. A $3 entry fee granted access to a two hour long concert. Pitch Slapped is an all-women acapella group on campus, and the theme of Saturday's show was "In the Name of Love." They teamed up with several social justice affiliated clubs including: Fabulous Oneonta Feminists, Students of Color Coalition, Social Justice Society, and the Gender and Sexuality Alliance.
The purpose was to spread awareness about self-love and respect for others. In the show's program, Pitch Slapped described their mission for the evening's event: "As an all women organization, we figured it was about time we used our feminism to affect change. This show uses music as a way to spread love and acceptance for all. Pitch Slapped has been a safe haven for all of us in times of heartache. We are happy to share a big piece of ourselves, and what we do with you. Always remember, in the name of love, you are worthy."
True to their words, the diverse representation of student organizations involved reinforced an overall intersectional ideal. Intersectionality is a study of feminism that examines the different converging oppressions that shape an individual's experience. During a brief interlude, two E-Board members of Pitch Slapped asked the audience if they knew what intersectionality meant. To mention the word during a show about love was an important statement to make. It is a reminder to be empathetic and open to the situations that people in our lives may go through on a daily basis.
Each song selected was introduced with a blurb about what the lyrics represent. The setlist included: "In the Name of Love" by Martin Garrix, an appropriate opener to frame the show's meaning, "Hey Mami" by Sylvan Esso, which talks about catcalling and sexual harassment, "Love the Way You Lie" by Rihanna about domestic abuse, "Thinking Bout You" by Frank Ocean, "Wings" by Little Mix, and to close out the night, an emotional rendition of "Rise Up" by Andrea Day.
The final song made a strong emotional impact on the audience, as was intended by the entire program. Many audience members admitted to the tears they shed in the last five minutes of the showcase. This song's message about rising above all of the negativity sounded absolutely soulful when sung by soloist Selena Hackshaw, as Pitch Slapped backed her with crafted harmonies. Concluding with this number was definitely a smart way of reinforcing a theme of love and acceptance.
Pitch Slapped's "In the Name of Love" showcase was a beautifully put together show. Not only was it a moving display of the talent that exists on campus, but it also provided the audience with a look into the ideals that inspire performers to step forward and create art. Those in attendance had the opportunity to learn about how to get involved in the movement of enacting social change that exists on SUNY Oneonta's campus. Hearing a lot of beautifully orchestrated songs definitely helped the cause as well. The proceeds from the 100+ in attendance will go to a charity that has yet to be chosen by the organization.
Editor's Note: Check out pictures from Pitch Slapped Presents: In the Name of Love below, courtesy Victoria Walsh!