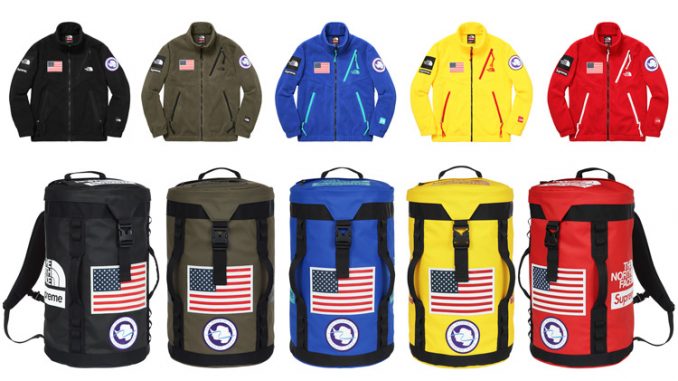 Paige Welch | Staff Writer
The Spring 2017 Supreme x The North Face collection is not the first one to grace the world of street wear. In 2016, they released together a fall/winter collection which consisted of weather-proof articles including hiking packs, light and heavy winter jackets, booties, and nylon sporting pants. Color options ranged from classic brown camo, orange, basic black, graphic lettering (true to the Supreme brand), paisley patterns, and bright color block jacket designs.
For the Spring 2017 collection, t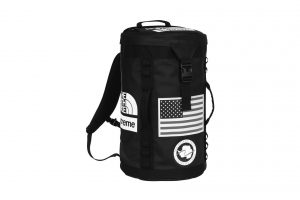 he two brands continue to boast functional street-ware pieces, but with a focus on the colorful, not the patterns. Exploring the line shows an eclectic twist, politically charging the designs with plenty of American flag patches. It does not, however, stray away from The North Face's traditional explorative outdoors purpose. The SS2017 collaboration was released in the U.S on March 30, online and in several Supreme store locations.
The pricing of the items was released prior to the collection:
Gore-Tex® Pullover: $488
Gore-Tex® Pant: $368
Polartec® Fleece Jacket: $268
Big Haul Backpack: $158
Headband: $54
The steepness of the prices is expected from two big-money brands that cater to a specific niche of young, upper-middle class urbanites. Though there is a wish for there to be a less intimidating collection at a lower price, high fashion is about the brand name and being able to sport that label with pride. Plus, there is a high-promise of durability in these products. It may be a worthwhile investment to purchase something from this line and have it last, a badge of what was.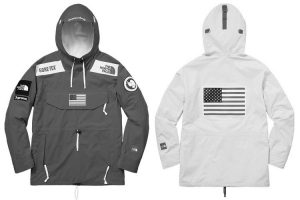 Many comments on the line are negative though, criticizing the collaboration for all the logos that appear on SS17 products. Others say that the designs are way too busy and that the materials are inappropriate for the season. But as always, there are those loyal supporters and consumers of both Supreme and The North Face. These people say that Supreme will always add value to the brands they collaborate with due to their "trendy" reputation, regardless of the actual face value of the pieces. As with anything in the fashion world, some people get the vision, others don't. It all comes down to personal taste and how successful the designs sell to their target audience.