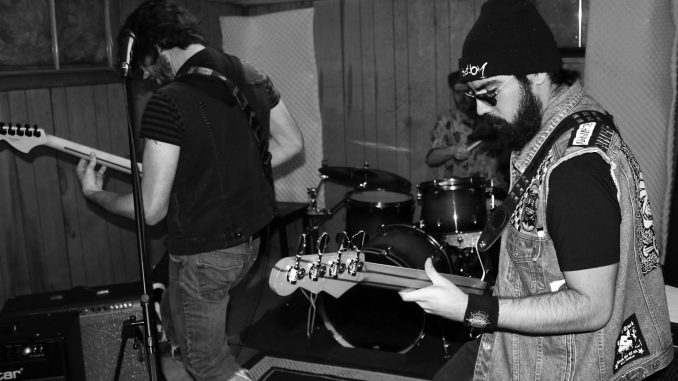 David Anderson, Staff Writer |
Every year, Oneonta's Music Industry Club offers student artists the chance to have their work added to the school's Red Dragon Record label. This year, the artist awarded this privilege was punk rock trio Rootkit Disaster. Recently, I sat down with Andrew Loffler, one of the group's guitarists, bassists, singers, and songwriters and asked him some questions about his musical endeavors and the band's recording process.
David: Who are you, and what is your quest?
Andrew: I am Andrew Loffler and my quest is to show the public that punk rock is pretty cool.
D: Why the name Rootkit Disaster?
A: Rootkit was the name of the malware that was designed to mess up Napster. The press referred to is as "The Rootkit Disaster" and my bandmates and I learned about it in our Contemporary Issues in the Music Industry class and thought it was an awesome name.
D: Who are your musical heroes?
A: Thomas Kalnoky from Streetlight Manifesto, Fat Mike from NOFX, and Jimi Hendrix– I love that man to the moon and back.
D: What was the audition process like?
A: Well you have to present one or two songs and give a brief talk on your availability, how much material you'd be able to record, and why the deal would be helpful to you.
D: What is the recording process like? What are the hardships, and what keeps you coming back?
A: Well, as the artist you want everything perfect, so the biggest hardship is doing a section over and over until you get it just right. The best part about recording is getting to switch roles. We're always listening and trying to improve our music when we play, but once it's recorded you get to take on the role of the everyday listener, and that's pretty cool.
D: What are your hopes for this album? Where do you draw your songwriting material from?
A: Well we're hoping for 12 songs. We write about a lot of stuff; our personal experiences, Ed, Edd, N' Eddy, and whatever else comes to mind. With this album we're hoping to prove that punk's not dead and to create songs that people can sing along to.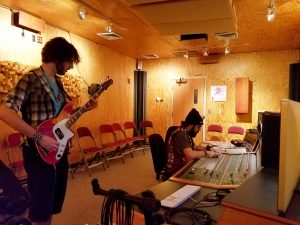 D: What comes with this deal?
A: Well we get $1600 to spend on physical CDs and merch. We're also hoping to get it professionally mixed. We're going to do some research into who mixed our favorite artists and see if they come into our price range.
D: What are your plans after this album?
A: More songs, more shows. Hopefully, some shows may be on Long Island and in Ontario.
Rootkit Disaster combines the talents of Andrew Loffler on guitar, bass, and vocals, Brian Dusseault on guitar, bass, and vocals, and Tommy Sanders on drums.
Confusing right? Well, they switch instruments a lot, and it totally makes sense if you see them live. Which everyone should do!