Pat Boody, Staff Writer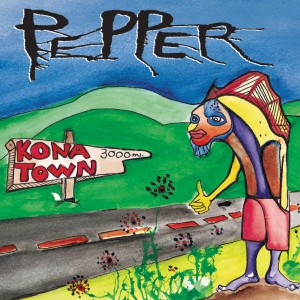 Trance inducing, prevalent bass guitar, mellow in nature reggae-rock is perhaps one of the most appropriate genres to pair with the archetypal summer night. A band that is well-renowned on this scene and should be an essential component to your summer day drink or cruise down the beach is Pepper. Perhaps one of their greatest releases is their 2002 sophomore album, Kona Town.
Two of the four members of the band originated from Hawaii, specifically the town of Kailua-Kona, which the album is named after. And this concept is a motif that appears throughout their work. Pepper has distinctive influences that can be pin-pointed to their original geographic location, yet this is matched with a unique sound that allows them to differentiate themselves from so many bands that are just carbon-copies.
Upon its release, the record was greeted with poor reviews. Pepper was accused of attempting to copy Sublime and the quality of the recording received harsh criticism as well. Maybe it is not the best studio album of all time, but this record is certainly capable of producing a steady head-nod and put you in a better mood. No matter what the subject matter of a particular song may be, Pepper's demeanor can be associated with having good times among friends, beach life and playing music regardless of what ill-intentioned critics may compare you to.
Tracks like "Stormtrooper," "Face Plant," and "Stone Love" convey Pepper's congenial sound that is layered with energy and positive vibrations. Strangely enough, the song "Give it Up" became a top-charting song in 2005, which alludes to yet another theme that Pepper is so used to playfully creating songs about—sex. Certainly not everyone's favorite topic, and definitely one that can be awkward to play in front of the wrong crowd, Pepper manages to take on this topic with good intentions and puts some interesting narrative behind it. For instance, in "Give it Up" a man tries to get a woman to sleep with him. He eventually brings her home after a night out, leaves her around his house for a few minutes and upon his return is surprised to find his dad with her in the other room getting down. This theme explains Pepper's convictions as a band and evidences directly the band's desire to just enjoy themselves and play their music.
Laced with high-energy, beach-town influences and sub-par critical reception, is a record that was made for the band and no one else. Whether you like what this album is about or not isn't Pepper's concern. However, what Pepper was concerned with was making this full-length a representation of what they are about, which they were certainly successful in doing.