Marielle Genovesi, Arts Editor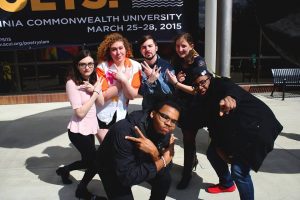 This past week the SUNY Oneonta Poetry Slam team traveled by van 10 hours down south to Richmond, Virginia to compete against a total of 68 schools in teams of four to five people from across the nation in the 2015 College Unions Poetry Slam Invitational (CUPSI). The poetry slam tournament is hosted annually by the Associations of College Unions International; SUNY Oneonta's own Robb Thibault founded CUPSI in 2001, and since then it has grown in attendance, the first inception hosting only seven teams in total.
SUNY Oneonta's Slam Team didn't fail to impress, coming in twelfth place out of the 68 teams present, finishing ahead of last year's national champions, the University of Texas-Austin. The team included: Matt Coonan, Jordan Mayers, Stefan Mirvil, Sigrid Buchbinder and Megan Gillen, and was coached by Justine Bishop.
According to Gillen, SUNY Oneonta senior, the prep that the team goes through for CUPSI is extensive; "The team gets really close while we're getting ready for the competition. We practice at least twice a week with each other in the months beforehand. There's a lot of practice that has to get done at the competition itself, too. We continually run poems in order to make sure we have them fully memorized and that we have our performance down."  The four-day competition includes educational workshops, haiku and nerd slams, for although the tournament is competitive, it is also about the environment slam poetry yields, sharing poetry from all corners of the country and having fun.
The CUPSI environment is a known as a "safe space" in which poets are encouraged to share stories of personal trauma and to talk about problematic themes in constructive ways. Alltogether, not only a competitive atmosphere, but one that encourages camaraderie among poets from all around the nation. Funny enough, Gillen notes that the SUNY Oneonta slam teams become closer to our "neighbors" at SUNY Binghamton throughout the competition.
The tournament, however, works a bit different than the average poetry slam, the teams contend against each other in bouts comprised of four rounds of poetry, in which each team sends one poem. The first two days of the tournament are preliminary bouts, and the rankings from these determine which teams advance to semi-finals. The scores in semi-finals determine who makes it to the final stage, and judges are chosen at random from the audience. According to Gillen, one of team's best moments came in their second bout: "We got third place out of four teams in our first bout, which discouraged us a bit. But the next day, we brought all of our energy and gave it our all, despite what had happened the previous night. We ended up getting first place in the bout, which allowed us to move on to semifinals. It was the moment I felt most ecstatic.  But sharing my poems with others, no matter what placement we get, is also such a rewarding thing. Knowing that my words can affect people from all over the country is incredible."
Gillen also spoke with pride about her team's impressive finish, remaining among the best in the nation, a feat that shouldn't be overlooked. Although the team didn't make it to the final stage as a whole, senior Matt Coonan was able to perform his poem "Fish" after being voted by the coaches of other competing schools into what's called "The Best of the Rest." It was a moment of pride for the SUNY Oneonta team to see their teammate perform on the final stage.
Megan Gillen summed up her final thoughts on the CUPSI experience as a whole: "While the competition is a major piece of CUPSI, I look back and I'm proud of all of us for having the courage to share our lives with strangers. I feel like that's really what that tournament is about." The Poetry Slam Association meets on Wednesdays at 5 p.m. in Union Square of Hunt Union.