Tracey Cheek– Staff Writer
It's that time of year again: twinkling lights, warm hot cocoa, holiday jingles playing everywhere you go and one more thing: annual "Ugly Christmas Sweater Parties." They're the one party where you don't have to dress to impress, because at these parties, the uglier the sweater, the greater the time! From frat parties to your parents' office holiday get-together, the ugly Christmas sweater theme is now hitting the streets for people of all ages. It's the time of year that gives us all that warm, fuzzy feeling along with a warm, fuzzy sweater!
A typical Ugly Christmas Sweater Party consists of a few simple things. Holiday music, festive drinks and of course a frumpy holiday sweater. It's the one party of the year where you can simply throw on an outdated looking sweater that would receive funny looks elsewhere—and head out for a joyful evening.
Your typical ugly Christmas sweaterwas not always considered a fashion faux pas. Throughout the 80s, these knits were totally in style; the more décor on it, the better. Then in the 90s the trend started fading but picked back up around 2001 with the return of the Ugly Christmas Sweater Parties.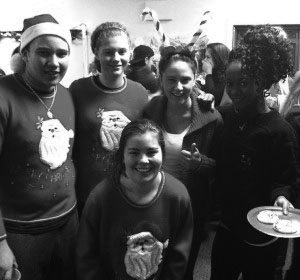 Don't fret if you don't own a so-called ugly Christmas sweater, because there's plenty of inspiration around to get you into the mood of the tackiness. Think back to the gaudy sweaters your elementary school teacher would wear the day before holiday break. Bill Cosby fan or not, his impact on the sweater industry has been huge and any of his famous "Cosby sweaters" would fit the theme of the party perfectly. Now, if your parents or grandparents happened to toss their gaudy sweaters out of sheer embarrassment, no worries! Head over to the Salvation Army where you can find hundreds of sweaters jumbled with all the bells and whistles that come with an "ugly Christmas sweater."
Also, since this party trend is up – and – coming, department and retail stores have been catching on too. From Wal-Mart to Target and everywhere in between, you can find sections with these tacky sweaters.
Feeling creative? Stores like Tilly's and Urban Outfitters sell make-your-own ugly Christmas sweater kits, complete with felt reindeer, snowflakes, ornaments and all the like. Or you could even take a plain sweater, grab a hot glue gun and start from scratch! When it comes to nailing an ugly Christmas sweater, too much is never enough so don't be shy with that tinsel!
Want to throw an ugly Christmas sweater party? Grab your friends, stock up on
sweaters and pin up the Christmas lights. If you're feeling tired of the classic
holiday music, try out "The Ying and the Yang of the Holidays," a rap Christmas
album by the Ying Yang Twins. "Deck Da Club" will definitely get the crowd in the spirit.
So get festive and look for your perfectly tacky woolens­­—maybe you can be the proud winner of the ugliest sweater contest!