Alex Fredkin, Arts Editor
Ever heard of Anthony "The Twilite Tone" Khan? If not, maybe you've heard of Common, Big Sean, John Legend, or perhaps Kanye West? Khan has worked with all of these artists and more during his twenty-plus years in the music industry. Recently, he co-wrote three tracks on Kanye West and GOOD Music's album "Cruel Summer," including the popular single "Mercy," which went 2x platinum. He also produced Pusha T's single "Nosetalgia" with Kendrick Lamar.
Khan goes by The Twilite Tone—Tone for short. The man was gracious enough to come to Oneonta last Tuesday, speaking at SUNY Oneonta's campus during the day, playing a DJ set that night at the B Side Ballroom and taking some time out of his busy schedule to speak with the State Times. Tone is managed by an alum of the school, Dan Mullins.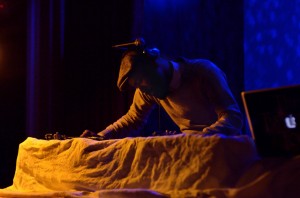 The Grammy-nominated songwriter, producer, DJ and artist's ideas and inspirations are anything but mainstream, which is interesting considering he has worked with so many high-profile acts. "The twilight tone is the tone of the twilight zone," Khan explained. "The twilight zone is that period of time and space that is right in the middle of what is dream, abstract and what is concrete, physical. The twilite tone is you and I."
Growing up in Chicago, Tone has always been immersed in all types of music, and comes from an impressive musical pedigree; funk singer Chaka Khan is his aunt. Tone started out in the 80s as a deep house DJ and hip-hop producer. He started finding success with Common and another producer, No ID, who both are also from Chicago. Along with No ID, Tone produced Common's first three albums, and although he didn't appear on any of Kanye West's (who is also from Chicago) music until recently, the two have worked together since before either were famous.
Tone spoke to SUNY Oneonta's students on Tuesday about all sorts of things, including some of his musical history and how he approaches life. He speaks slowly and deliberately, and places great importance in all of his words. Tone talks in a very poetic manner, using complicated metaphors and distant themes in the casual way your favorite rapper might use slang or curse words.
He explained how after working with Common for awhile he got tired of that scene and went into the underground. Tone started creating music that satisfied his creative desires, combining elements of many styles including hip-hop, funk and even electronic into a string of solo works. Speaking on this time in his life, Tone says, "I used to be anti-popular music. I looked at it from a critical eye and from a place of criticism."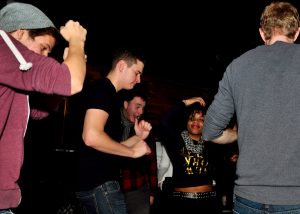 Tone later changed his tune, moving to New York and shifting his perception of what it means to make music. He now looks at music "as a place of possibility and an opportunity to serve." When looking at popular music today, Tone explains that he now asks himself, "What can I do to add on to that? As opposed to dismissing certain kinds of music or pointing out what's wrong with it." Tone spoke at great length about removing his own ego from the music and using himself as a vessel to make the music better.
The quiet but confident man used the recognizable opening vocal sample of "Mercy" as one example, saying, "I know 'Mercy' wouldn't have been what it was without that sample. If I had said, 'This song isn't worthy of this sample,' it would have just been another record." Instead, Tone chose to say, "Here you go, how can I help you man?"
Tone spoke at great length about applying this new way of life and that you never know how what may seem like just a little bit of effort at the time can help out in a huge way. Tone explained that creatively he is "a reservoir and not just a glass of water," and is constantly looking for ways to serve.
This philosophy of not just music, but life in general, permeated Tone's Tuesday event, called "Great Weekend." This event is a dance music-themed party Tone has been putting on since 2008. He played an impressive collection of music, with lots of funk, hip-hop and house filling the B Side.
But to Tone, "Great Weekend" is not just a singular event. "Great weekend is the ultimate vacation. Every day is Saturday. How do you achieve every day is Saturday? By knowing your purpose and doing your purpose every day, moment by moment." This is how Tone lives his life, it's not just a philosophy or some abstract way of thinking. He wants to share the option of living life this way to the world. People that want to join Tone and work with him can enter "Great Weekend." He went on to say, "I don't want this to be a counterculture or underground way of thinking. It's more than just a party; it's a group of people, a collective. It's a way of thinking."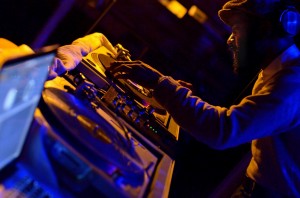 Tone's performance personified living life to the fullest and enjoying yourself at all times. He put on an entertaining show for all attendees Tuesday night; Sean Lennon even came out to enjoy the music. Spinning soul, Motown and just the right amount of James Brown, Tone turned the B Side into a quintessential 80s dance party. Students in attendance were given a refreshing take on what a club could look like; no Top 40 hits were in attendance. No Lady Gaga, no Avicii, no Taylor Swift and thankfully no Miley Cyrus could be heard. For those of a different time, it recalled what music used to be like, and perhaps should still be like. And for those who had not experienced a party like that, it was refreshing and fun to be given insight into this new option presented by The Twilite Tone.
"Great Weekend" was a major success. Everyone loved the performance and it was beautiful to see people of all ages, students and parents enjoying the same music. The Twilite Tone expressed his unique mindset with Oneonta on Tuesday but the enigmatic man is determined to bring his vision to the masses. He shared his knowledge and shared his music with the student body and will continue to do so around the globe.