Elizabeth Raphaelson – Managing Editor
I was really strange in the third grade, and I liked these peanut butter bars that my teacher's aid made enough, that at the ripe age of eight I asked her for the recipe. I still make them today whenever I'm combatting academic stress!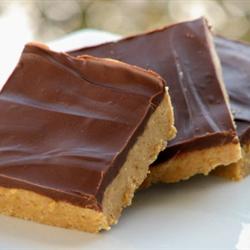 Ingredients:
1-cup peanut butter
1 ½ cup powdered milk
6 oz. chocolate chips
1-cup honey
1-teaspoon butter
Mix peanut butter, honey and powdered milk until smooth. Spread in 8" pan. Melt chips w/butter and spread on cookie mixture. Refrigerate and then cut into squares. Cry into your calculus notes, repeat.