Richie Feathers, Arts Editor
When followed, the paint-by-numbers model that the classic coming-of-age genre has recently generated for itself makes it difficult for a typical movie of its kind to be a true failure. Yet, that being said, it makes it even harder for one to truly stand out. And that's why this year's "The Way, Way Back" is such a success.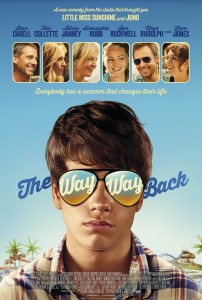 A hit at the Sundance Film Festival, "The Way, Way Back" is a wonderful coming-of-age story that is both genuinely hilarious and achingly moving. While it doesn't reinvent the genre, or stray far from the mold, the film is successful because it doesn't try to; it has a firm understanding of the age-old story it's telling.
The movie follows reserved 14-year-old Duncan (Liam James) as he's dragged along to spend the summer at his mother's boyfriend's beach house. Initially feeling confined by the company of his mother Pam (Toni Collette), her domineering boyfriend Trent (Steve Carell) and their loud friends (Amanda Peet and Rob Corddry), Duncan finds his escape in Water Wizz, the local water park run by the amiable Owen (Sam Rockwell.) With the help of the park's employees (Maya Rudolph, Nat Faxon and Jim Rash) as well as his kindhearted neighbor (AnnaSophia Robb), Duncan learns how to find his own voice and soon realizes that no one, child or adult, has everything figured out.
James brings a nuanced familiarity to Duncan's awkward interactions and uplifting character transition, but it's the supporting actors who give "The Way, Way Back" its vibrant life and stark realism. Rockwell is astonishing as Owen, the adult who's still not ready to grow up. The quick bond he and Duncan form is both believable and touching. Another standout is Allison Janney who excels as Betty, the hysterical, recently divorced neighbor who leaves nothing unsaid. As with her other roles in films such as "Juno" and "Away We Go," she hits every comedic note perfectly.
Collette portrays the fragile Pam with a subtle beauty and grace, while Robb's Susanna is a refreshing take on the girl-next-door. Rudolph brings a warm blend of caution and playfulness to Caitlin, an employee hesitantly hung up on her boss. And Carell, taking on a notably different role than usual, further proves his acting chops by giving Trent a sharp edge that could've dulled to animation in less capable hands. It's these fantastic performances of the entire ensemble that make this film about a lonely teenager speak to audiences of all ages.
Written by Faxon ("Ben and Kate") and Rash ("Community"), who both share a screenwriting Oscar for 2010's "The Descendants," the movie is also their directorial debut. Showcasing their talent both on and off-screen, "The Way, Way Back" breathes a contagious life back into this familiar story. Not only is this one of the best coming-of-age movies in a while, it's also one of the best films of the year.