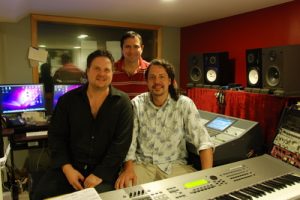 Alex Fredkin, Arts Editor
NY Tune Saloon is a music production company based in New York City, and consists of musicians Tony Di Lullo, Jorgen Kjaer and Ed McCoyd. Collectively they write music for TV, film, and new media. The company has done work for the movie "16 Blocks," which starred Bruce Willis, and the NBC animated cartoon "Kenny the Shark." Recently they recorded the theme song for comedy website thelaughbutton.com.
The members of NY Tune Saloon come from a musically academic background: members Tony Di Lullo and Jorgen Kjaer hold music degrees from NYU and Berkley, respectively. Di Lullo spoke to the fact that in order to make it in the music business you must have a variety of skill sets. "Try as many things as you can, because it is going to be tough to make a living doing just one facet of the music business."
In Di Lullo's case, he spent a lot of time gigging as a musician before he got more into recording and producing. Over time Di Lullo accrued the necessary equipment to record professionally, and set up his personal studio. Being more than just a musician has enabled him to get a lot more work than someone who is one dimensional.
One example of this is how he got the job to do music for "Kenny the Shark." The man who was originally asked to write the music for the series was not able to do it himself. Di Lullo was playing at a gig and met the man there. They talked for awhile and he gave Di Lullo the job partly after discovering that he had his own recording studio.
Di Lullo says that in this way he is able to "make his own luck." By having a variety of skills he is able to get consistent work. He adds "Get to know as many people as you can. It will really help you get things going. It's all about who you know."
Working in the music business is no easy task. In order to be successful you must be determined and disciplined enough to work on your own schedule. Di Lullo explains "When you are starting out you almost spend more time on the business than the actual music. Eventually if you are big enough work starts to come to you."
People that make it in the industry are "go-getters" and must have an intense drive and the initiative to find opportunities. It is not like a nine-to-five job, in which hours and pay are regimented. In the music business a person will get as much work as they go out and find themselves.
Although this may sound a little daunting, Di Lullo stresses that it is worth it if people are willing to make that commitment: "My biggest piece of advice is that you really have to have the passion and the love to do it. It's going to be tough sometimes, but at the end of the day it will be more rewarding in a lot of other ways." For creative music fans, working with music every day is a dream come true. For this reason it is an extremely competitive business, but success is there for those that want it. Di Lullo says, "You are going to have to be willing to work very hard, but in the end you will get there." His overall message is to be optimistic and positive. For those that want it badly enough, they can earn a living in the music business.